Hello fellow anglers and a warm welcome to our Daiwa Phantom review – a perfect carp rod aimed at new anglers or those on a budget.
Modelled from Daiwa's very own Black Widow range, the Phantom is a great value rod considering this.
Pure and simple, but of the highest quality, the 'Phantom' looks like a far more expensive rod.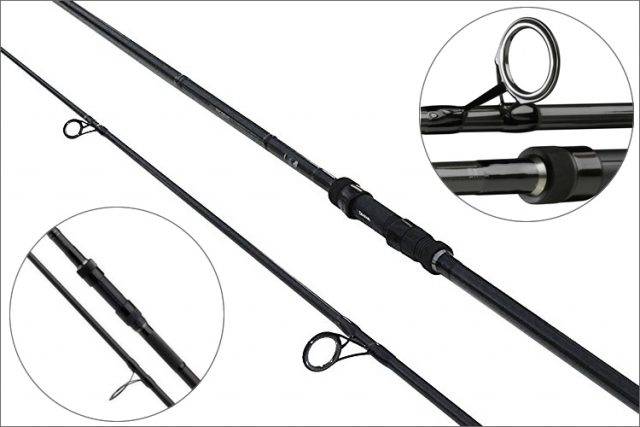 Finished in a nice carp-like black matte, a stern backbone and forgiving progressive tip – you'll be landing fish on the bank in no time.
Lightweight and well balanced, it plays pretty well too.
In fact – we'd even go as far to say that, performance wise, it's right up there with the best the industry has to offer in this price bracket.
Glancing down the rod, we find titanium oxide guides (which are resistant to the usual damage when casting out at speeds) right down to a 40mm butt and because the guides are attached with double legs, this gives you great flexibility.
You may be slightly surprised to hear about the test curve – which is 3lb on the Phantom, and not your run of the mill 2.75lb.
Rod Features
What Lengths Are Available?
Only 12ft we're afraid.
Test Curve Options?
The only test curve option is 3lb (pretty high for a budget rod)
Rod Performance
We haven't got round to field testing the Phantom as yet, but from other 'reliable' sources we believe that it performs pretty good when it comes to arm-to-bank carp combat.
The backbone plays quite strongly, giving you plenty of power – while the progressive tip is incredibly forgiving (minimises those hook pulls!)