Having a sturdy and reliable carp landing net handle is a crucial aspect of a good angling experience. Successfully landing those record breaking carp catches into your net is the important task for every angler, and that means that you'd want the best carp landing net handle you can get. And that's why we're here to help. With our latest guide you will be able to successfully discover the very best on offer today – a good telescopic landing net handle is just a click away! We are bringing you the careful selection of the finest handles in the angling market. Join us!
Best Sellers
Top Carp Landing Nets
1. New Map Dual 3.0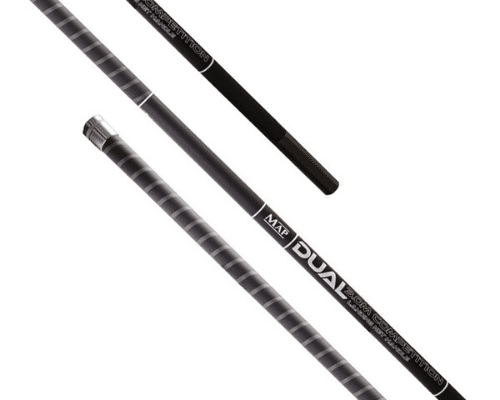 New Map Dual is a 3 meter long landing net handle designed for pro competitor anglers and casuals as well. Specially designed to cater to those record-breaking big catches, this sturdy handle is ultra-rigid and made from the very durable materials. It is a 2 piece telescopic handle and contains nickel coated brass threads for extra durability. This handle is definitely a commercial design with the needs of all anglers taken care of. Netting those huge carp or pike and catfish will no longer be that much of a challenge – not with a reliable and efficient handle such as this one from New Map. Affordable and high quality – a good combo!
2. Super Strong Lineaeffe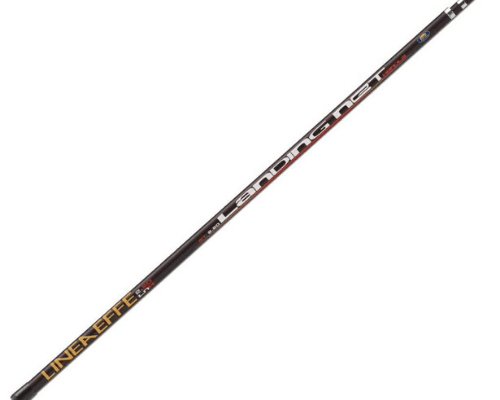 Lineaeffe is a sturdy and quality 3.2 meter telescopic landing net handle that is designed with the beginner angler in mind. Although advertised as super strong, the Lineaeffe is still designed for the basic catches that don't exceed 8 lbs. That makes it a good option for starting anglers that want to get a feel for net landing with smaller catch. One of the basic and simple offers, it is equally affordable. If you are on a tight budget and not looking for anything overly complex and high end – this is the handle to grab.
3. Middy Power Handle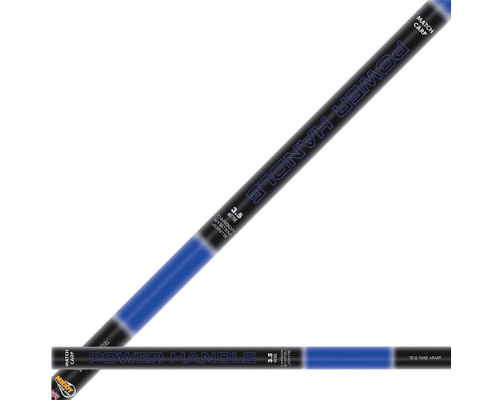 Middy power handle is a good quality competitive landing net handle that comes in two options, each with an overall length of 2.5 or 3.5 meters. It is made from phenolic fibres and carbon system joints ensuring longevity, flexibility, and above all strength. It has brass threads for the telescopic joint also ensuring durability when netting big catches. The handle is standardized and it accepts any net with a screw on head. Numerous anglers report satisfying reviews, and the handle easily netted carp of 18 lbs and over. A good quality product with an affordable price tag – definitely recommended!
4. Dinsmores Fiberglass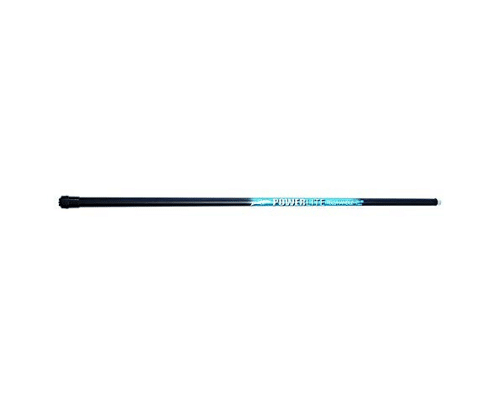 Dinsmores offers another handle in the low end line of basic angling equipment, catering to the casual anglers and beginners. It is constructed from sturdy and lightweight, coated material, and is a 2 part telescopic handle with a length of 180 cm. It has the standardized fitting that accepts all fishing nets with the basic screw on end. Keep in mind that this handle is not designed for any ground breaking large catches – keep it in store for those small and basic catches, otherwise it might snap. With a very light price tag, it is a good and affordable option to keep in your angler's kit and have by your side for emergency or basic use.
5. Maver Reality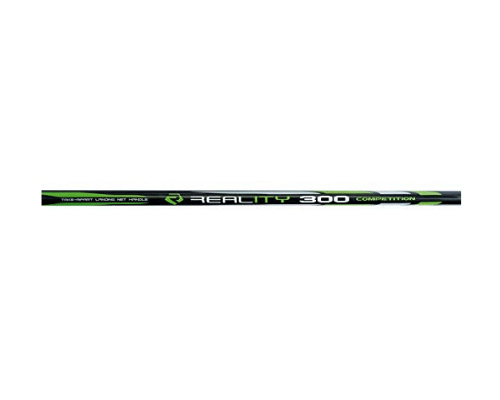 Maver is a trusted brand for high quality angling equipment and this time they deliver a very reliable product – their new line of Reality landing net handles. These are composite carbon take apart landing net handles and have a unique design with fantastic building quality. There are three options on offer – a two piece handle of 2 meters, and three piece handles of 3 and 4 meters. You can choose according to your liking and the fish you catch. A successor to the popular Abyss X landing net handles from Maver, these products are a fantastic choice if you are looking for a high quality, durable, and efficient product that will perfectly complete its role. These handles are durable and strong, while still being lightweight and pliant. These are not telescopic – but rather take apart. Each part fits into the other and ensures good strength at the joints. If you need an extra reach, or you're often on high bank waters, then these handles from Maver are a perfect choice!
6. NGT Landing Net Handle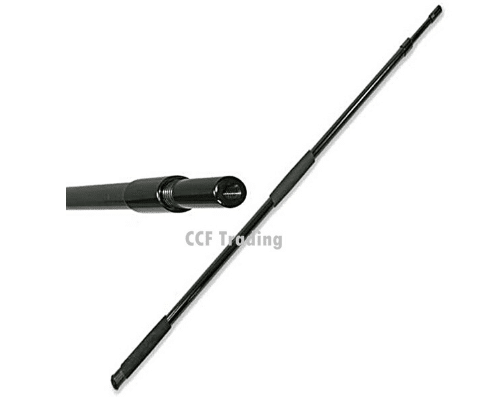 NGT delivers a two part, 2 meter long landing net handle with fantastic performance reviews and a tried and tested design that caters to all anglers. Made out of durable and tough materials, it is surprisingly flexible and efficient. It has a screw on lock male thread which accepts all standard nets in the market. At 2 meters it might not be ideal for deep banks and a very long reach, but for run of the mill angling it is more than suitable. Once extended to full length the telescopic portions can be screwed in place adding extra stability and strength at the joints. NGT delivers one of those surprising products we can often see in angling equipment. It is quite cheap and affordable but even with the low price it is extremely efficient and good quality. What more can an angler want? Definitely recommended in the angler's community.
7. NGT New 3 meter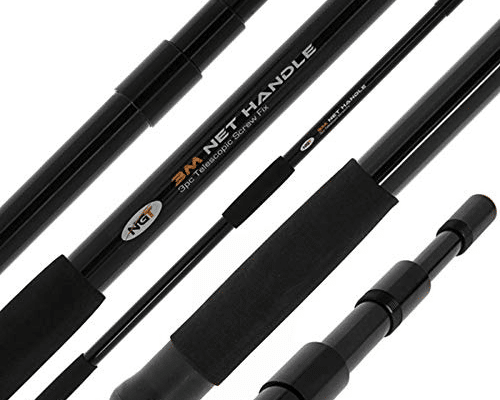 Ideal for coarse fishing, this latest product from NGT is quickly becoming their flagship landing net pole. Coming in three different lengths – 1 meter, 2 meters, and 3 meters – it offers plenty of variation for the common angler. These telescopic handles all have a solid fiberglass build, and a screw fix connection which adds to stability and strength. It also has nifty rubber grips that ensure a solid grip and no slipping at all. With the option to use them in 3 different lengths, it is a great option when you need some extra reach on those high banks. It also ensure adaptability and the option to manage any situation and any fish you catch. And best of all, this fantastic handle is quite affordable, which places the beginner angler close to the high quality angling equipment on offer. A great choice!
If you are more of a match fisherman, then check out our other article on the best match fishing landing net handles.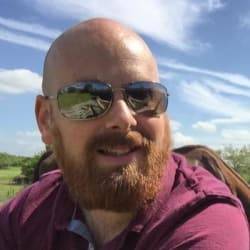 Mike has over 30 years of fishing experience in carp fishing and general coarse fishing. He is always looking for the latest fishing kit to try out and talk about and needs a bigger shed due to all the fishing tackle he owns. You can read more about him here.