Best Carp Rods

under £100
We are going to review carp rods for under £100 because we know carp fishing can quickly become an expensive hobby.
There's no doubt that the bulk of your hard earned cash should go on the best quality carp rods you can afford.
Luckily for us anglers, there is plenty of competition from carp rod manufacturer's making rod prices very competitive -these days, you can buy a pretty decent carp rod for under £100.
This means, even for beginners, carp fishing is now more affordable than ever before.
Before we jump in, let's think about what you need to look out for – because it'important you get this right!

---
 Rod Performance
If you've visited our homepage, you'll find that choosing the right rod for the right situation is important on deciding how you want your carp rod to perform.
Think about how you're going to use your rod.
For stalking?  Long Distance Casting?  Spodding?

Rod are built with varying test curves and lengths – each type has it's own use!
---
Test Curves Explained
You should know what test curve you need – below is a rough guide so you know what rod to choose.
These are all approximate test curves.
General Use


2.75lb

Long Distance Casting
3lb

For Spodding


3.5lb and upwards
This video discusses test curves a bit more in-depth.
---
Rod Design
Although looks aren't important, the design of a carp rod
can effect performance
.
For example, what type of blank is the rod constructed from?
A good quality blank will perform better, be more versatile and less susceptible to damage.
Most rods these days have a clear gloss finish that protect it from the elements.
---
Rod Length
The 13ft carp rods tend to be more powerful and more frequently used for punching out heavy end tackle (such as PVA bags) over long distances.
Carp rods designed for stalking will be much lighter and certainly shorter.
This is to make navigation easier as you need to keep as mobile as possible when searching out 'stalking hot-spots'.
It's true to say that the more money you spend, the better the quality & performance.
We'll review a few of the better rods for under £100 that include a mixture of test curves, lengths and brands.
Shimano Carp Rods | Daiwa Carp Rods
So – let's jump in, and start reviewing some carp rods!
---
Nash H-Gun Dwarf
Our Rating:
4.3 out of 5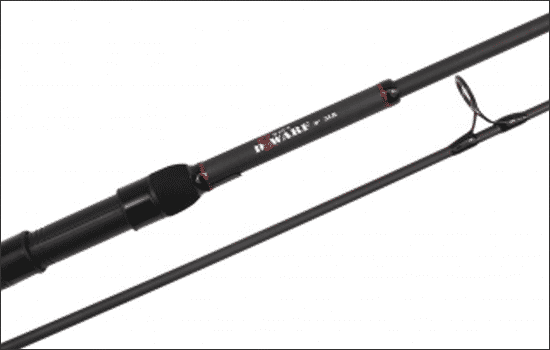 For a carp rod that's manufactured by a reputable brand, this Nash H-Gun Carp Rod is a nice looking, compact rod.
It performs very well during the action, and can be stored away very easily due to it's length.
Models i the range include 9ft and 10ft, the latter retracting to just 44 inches so opportunist carp fishing moments can be taken at any time.
Do you cycle to your local lake?
Then you can transport this, even without a carp barrow(lol) with no problem at all.
It casts accurately if your looking for gaps in the reeds or that far margin and playing and landing carp is effortless as you can feel the power of the 3.5lb test curve.
You'll be able to cast at over 150 yds, so if your into heavy tackle fishing such as PVA bags or method feeders the this rod is must for your collection.
The tip is also very forgiving so landing carp in thick weed or under difficult trees or bushes is simple and easy.
Overall – a serious bit of kit.
---
Shakespeare Cypry
Our Rating:
4.1 out of 5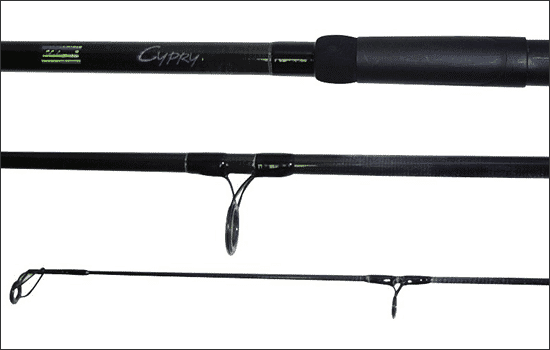 Shakespeare have long been associated with carp fishing for many years now.
There entry level carp rod is available for around £40 making a 2 rod set-up for less than £100 an admirable price.
Part of the ever popular 'Cypry' carp tackle range, the rod is crafted from a slim carbon blank profile giving you competitive specs that combine quality with performance.
You'll feel totally in control when playing a big carp with this rod!
This is a 3-piece carp rod that fits it into the boot of your car with ease.
Clocking in at 12ft with a 2.5lb test curve, it has a stiff action tip, quality line guides and screw winch reel seat.
We can spot a line clip for an added bonus, which stops your rod flying off into the lake.
---
Shimano Alivio

Specimen Rod
Our Rating:
3.9 out of 5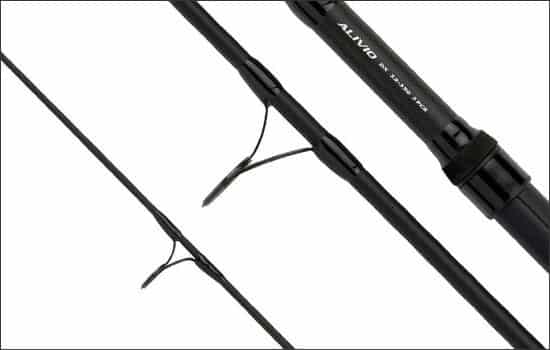 Shimano – a well known and trusted brand across the carp world have put together this fantastic 12ft, 3 section carp rod for under £100.
Featuring a stylish design, and tailored to those on a tight budget, the Alivio specimen rod has all the hallmarks of a rod twice the price.
It feels very responsive, lightweight and finished off with sleek graphics.
Including a protective line clip, DPS-style reel seat and a 40mm butt guide it has great casting abilities and play action.
There are 10 models to choose from with varying sizes and test curves, 4 of which are 3 section alternatives.
On top of all this, Shimano have released a 5.5lb test curve spod rod and a 3lb marker rod so you can complete your set up if you choose.
The rod is cast from XT-30 carbon.
A great carp rod for the all-rounders.
---
 

Other Notable Carp Rods under £100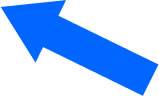 If you know an angler who is aiming to get started – why not share this page with them using the buttons just to the left!
We've pieced together a mammoth list of carp bait suppliers just for you!
Read More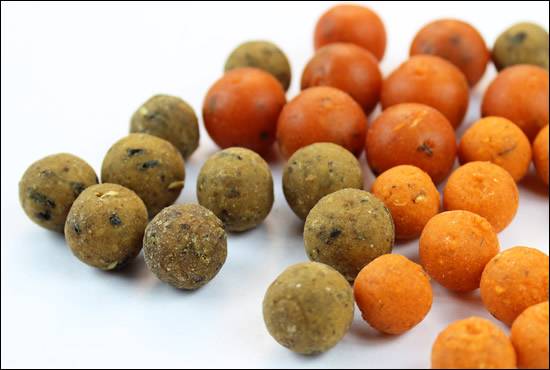 Save
Save
Save
Save