Wirral Peninsula remains one of the most unique places in England, and has a very unique character and history. In its southern part, remaining in the boundaries of Cheshire, is Neston, a small town with an old history that reaches back to the Vikings. And just nearby is some top notch angling – the Yew Tree fishery. We wrote about the charms of Wirral fishing in our previous guides, and today we are adding even more for you to explore.
One of the younger fisheries in the region, established around 2010, the Yew Tree certainly started things properly, and have since garnered a respectable reputation, becoming a favorite of the locals. But it's not just the locals that can enjoy it – if you find yourself heading to Wirral or Cheshire, Yew Tree could and should be a stop on the way. Let's discover more about this venue.
This venue consist of two lakes of moderate size, situated in some wonderful scenery, roughly a mile outside the small village of Thornton Hough. The larger of the two lakes is 1 acre in size and has around 26 evenly spaced out pegs, ensuring enough space for all visiting anglers. The waters are stocked for coarse and specimen fishing as well, and they contain skimmers, ide, tench from 4 to 10 lbs, catfish with good double figures, barbel, bream to 7 lbs, rudd, roach, and of course carp. The latter goes up to 24 lbs and up, which is certainly good. This guarantees a little bit for every angler, and ensures that everyone will score.
The smaller lake is around ¼ of an acre in size, and has just 8 spacious pegs on it, but it certainly has a good stock equal to the larger lake, and will offer exceptional angling – no matter the size.
The secret of Yew Tree fishery is the character. It was created by an angler – for anglers, and as such it was designed with all the necessities covered. It really feels as a mature water, and it is stocked exceptionally well. On site there is ample parking and toilets, and also an office where you can get your tickets, a hot beverage, as well as bait and tackle! Day tickets are priced at £8 for the larger lake, and £7 for the smaller one. This is for one rod only, and for an extra rod you will have to provide an additional fee of £2.
There are plenty of suitable features at Yew Tree. The depths on the larger lake are quite decent, and there are deep margins, reed beds and various growths all over. It is a little bit open – not much in the way of trees – so it could get windy at times, but this is only minor. It certainly cannot take away from the cozy, quality angling – and that is what matters. Yew Tree is a venue that was from the start designed to be focused on quality angling only. Worth a visit!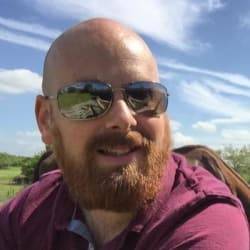 Mike has over 30 years of fishing experience in carp fishing and general coarse fishing. He is always looking for the latest fishing kit to try out and talk about and needs a bigger shed due to all the fishing tackle he owns. You can read more about him here.