Shepperton is a village that is located just 24 kilometres from London's Charing Cross, but even so, it feels like a world of its own. It captivates with its rural, easygoing charm, and has a lot of rich history behind it. A part of the county of Surrey, it is easily accessible from all major cities in the region, the capital included.
This makes Shepperton, and the nearby Ashmere fishery, a favourite for all regional anglers, a place to be when it comes to good fishing and iconic English countryside. This is a seasoned fishery and mature water, with a string of years behind it and plenty of experience gathered over the years. And with all that experience comes great reputation. Ashmere fishery has a lot to offer to anglers, with trout fishing in the focus. Let's discover more.
Four Lakes
This old still water fishery consists of four lakes on roughly 20 acres. These are situated in some pristine and captivating surroundings, and anglers are guaranteed a peaceful and relaxing time in nature. This is primarily a trout fishery, so all those of you who are passionate about trout will find this venue a prime location. The main fish here is rainbow trout, with the largest catch recently being 12 lbs.
An interesting thing about Ashmere is that it prides itself on having been run by the same ownership for around 35 plus years! Moreover, it is one of the oldest trout fisheries in the region, being in operation for more than 49 years. With such dedication, you know that you are dealing with a fishery that is passionately focused on delivering only the prime trout fishing in the region. And that it does.
Of the four lakes, there are two small ones, with 1 acre each, a medium one of 3.5 acres, and the largest which is 15 acres in size. All four have good features, with plenty of depth on the big one, and deep margins, reed beds, lily pads, and overhanging trees on the far shore. All anglers will appreciate the variety and the size – plenty of pegs all around, spaced evenly to allow everyone to enjoy themselves. On-site there are several facilities to help you, including ample parking near the waters, disabled access, toilets, boats for hire, and a tackle shop. Ashmere also offers a lot of good deals on annual membership tickets, so if you are a local and a trout angler, this might be a good chance to secure your yearly place.
Tuition
Ashmere offers tuition and as such, it is a great location for beginner anglers to try their luck and learn more about trout fishing. It can be a wonderful experience and with seasoned management such as this one, things really receive a totally new feeling. So next time you're in Surrey, or just near London, hop on over to Ashmere fishery, a lovely venue near the banks of the Thames – and enjoy some first-class trout angling!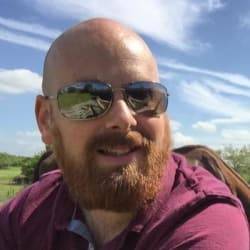 Mike has over 30 years of fishing experience in carp fishing and general coarse fishing. He is always looking for the latest fishing kit to try out and talk about and needs a bigger shed due to all the fishing tackle he owns. You can read more about him here.