Bakers Puddle is located near Buxhall, a small village close to the market town of Stowmarket. A quaint, picturesque little village, Buxhall is what you'd call sleepy rural England, situated in the heart of Suffolk. And close to Buxhall, equally lovely and cosy, is a fishery, named uniquely as Bakers Puddle. This freshwater fishing lake has a lot to offer to all anglers and is known as one of the better fishing venues in Suffolk.
Family Owned
It is family-owned and opens all year round, with the management having a great dedication to both the looks of the venue as well as the standards of fishing. When in Suffolk, you cannot go wrong by stopping by at Bakers Puddle for a day of quality angling. You will experience that iconic feeling of rural, cosy angling – and that is rest and relaxation!
Specimen Fish
This single freshwater lake is run with great attention to detail and well being of the specimen fish. The owners are paying great attention to maintain this as one of the regional waters with the best heads of carp and coarse fish. To ensure this, the lake is netted yearly, removing the small fish, re-using it in other waters, and allowing the bigger fish to thrive and reach its full potential. The owners also employ a dedicated feeding program, ensuring healthy development and great sizes. The waters are stocked with chubb, perch, tench and bream up to 4 lbs, rudd up to 2 lbs, and specimen carp that goes up to an amazing 35 lbs. Surely some of the biggest carp catches in Suffolk were made at this venue. The stocks cater well for both coarse and specimen carp anglers. The carp are mirror, crucian, and common.
Facilities
There are plenty of good facilities and amenities on-site, meaning that not only local anglers would enjoy the venue – you can travel and still enjoy yourself. There is ample parking close to the water, as well as toilet facilities. There is also mains water, waste disposal and electrical hookups for caravans. If you like travelling with your touring caravan, this is the place to be. Rest, relax, and angle – can't get better than that. And all of it is a fantastic environment, a lovely rural landscape that will charm you with both the greenery and the quiet ambience.
The Bakers Puddle is full of desirable features, which are easily noticed at first glance. There are plenty of deep margins around the shore, and reed beds are quickly noticed. These will allow you to experience a different challenge and tactic each time, as fish tends to go to these nooks. The depth is also good especially near the centre of the pond.
Rules
The main rule at Bakers Puddle is that fishing is with barbless hooks only, so keep that in mind.
Either way, this cosy little venue is a perfect way for locals to experience quality angling, but it also gives anglers from all over the UK to come to Suffolk and experience their lovely natural angling.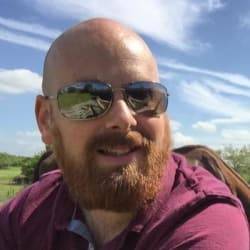 Mike has over 30 years of fishing experience in carp fishing and general coarse fishing. He is always looking for the latest fishing kit to try out and talk about and needs a bigger shed due to all the fishing tackle he owns. You can read more about him here.