Just outside of Wigan, near the village of Appley Bridge, lies a cozy little venue named Beacon View. A mere stone's throw from the urban core of Wigan, this venue is a great way for the locals to escape the hustle and bustle of the daily town life and enjoy some off time at this relaxing and idyllic venue. Other anglers will find it suitable as well, especially if passing through the region. The venue is situated on absolutely wonderful grounds, kept lovely with meticulous care and attention to detail. It is a really relaxing environment, perfect for a day's worth of good fishing. Best of all, it is known as one of the fisheries with the best selection of coarse fish breeds, so there's bound to be something for every angler out there. Let's learn more.
Canal Style
Beacon View fishery consists of a canal style water, around 1.5 acres in size and with plenty of depth and good features all round. The depth is mostly 6 feet, but in certain places near the center, it can reach 13 feet, which gives you some unique options when angling. There are a lot of evenly spaced out pegs, giving everyone ample space to set up their gear and baits, as well as personal space. The venue prides itself on the great selection of coarse fish. There's pretty much everything except pike and catfish. You can catch roach, rudd, chub, barbel up to 6 lbs, tench of the same size, koi carp up to 12 lbs, and of course specimen carp that goes up to 22 lbs. Up until recently, the water was also stocked with sturgeon, but the majority of those were removed due to a license issue. There could be just a few left in there. Either way, the variety is great, and really puts this venue one step ahead of the most fisheries in the greater Wigan region.
Day Tickets
The venue offers day tickets priced at £6 per two rods – a true bargain. On site there is ample parking nearby, as well as decent toilet facilities. There is also the bailiff support who also deals with the day tickets. Beacon View operates on the dawn to dusk basis, and is open all year round, so you can really plan your visit well.
The water has plenty of features. On the farther shore there are a lot of overhanging trees, and there are plenty of reeds growing all along the shore. The depth as we mentioned goes up to 13 feet, and that means that Beacon View fishery could very well be hiding some real record breaking monsters in the depths.
All it takes is patience, skill and tactics – and who knows, your new personal best might be hooked at Beacon View. Beginners will also appreciate this water, thanks to the balanced features and a good variety of fish. It doesn't take much to pull one out at Beacon View. So don't hesitate – visit this venue and experience the quality first hand.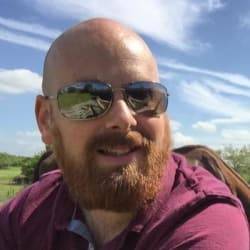 Mike has over 30 years of fishing experience in carp fishing and general coarse fishing. He is always looking for the latest fishing kit to try out and talk about and needs a bigger shed due to all the fishing tackle he owns. You can read more about him here.