Brafferton is a village in North Yorkshire, one of the loveliest in the region. It prides itself on the idyllic and picturesque countryside landscape, the one with the true English character. It also has a lot of rich history, even though it is a cozy, sleeping village. But it is also home to the Brafferton Fishery – one of the premiere locations in North Yorkshire, offering first class angling and plenty of surprises. Spacious, varied, and peaceful, these waters offer excellent angling opportunities for both beginners and professionals alike. The waters are also home to some of the finest and largest carp catches in the North Yorkshire region – large enough to spark your curiosity. A splendid day ticket venue, the Brafferton Fishery deserves a few words, so join us!
This experienced and reputable venue consists of four medium sized lakes, each one stocked with a variety of fish – with a clear emphasis on specimen carp. These are the Match Lake, the F1, The Ghost Lake, and the popular Island lake. As the names suggest these are mostly stocked with various carp specimens, and the Island lake has a prominent central islet and holds the best heads of carp. The carp goes up to 27 lbs and up. Besides these you can catch good sized roach, bream, rudd, and  tench. There are regular matches being held here, and can be organized with previous booking. A perfect chance for you and your mates to do some friendly competition.
The depths and features vary on the four lakes, but are mostly similar. Depths go from 6 feet to a bit deeper, and anglers regularly report some monster carp in these deeps. There are a lot of pegs all round, most of them on solid hard ground, and these are spaced out evenly, in order to offer great conditions for all anglers. On site there is ample parking near the water, as well as decent toilet facilities. There is also an on site café, offering hot beverages and refreshments. The venue operates all year long on a dawn to dusk basis, and prices its day tickets at £7.
The waters are surrounded by tree lines, with plenty of efforts being made to plant more new trees and shield the lakes with some nature and greenery. Even so, the venue offers wonderful landscapes and surroundings in the summer, which can be appreciated by all anglers looking to unwind and rest the eyes.
The pegs are also suited for disabled anglers, with good shielding, hard standing, and docking where needed.
Brafferton Fishery remains one of the finest in the area, loved by both the locals and anglers from afar. Reputation is important, and this venue upholds its own as a premiere specimen carp fishery in North Yorkshire, priding itself on the variety – ghost carp, F1, leather carp, and koi – all can be caught at the venue. And being so close to the city of York, it can work fantastically as a local venue to rest and relax at after a hard day's work.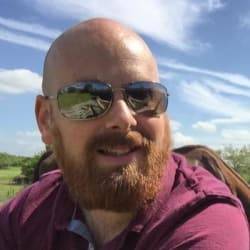 Mike has over 30 years of fishing experience in carp fishing and general coarse fishing. He is always looking for the latest fishing kit to try out and talk about and needs a bigger shed due to all the fishing tackle he owns. You can read more about him here.