Do you find regular fishing bivyy's to be too small? They are often very cramped and uncomfortable, and as you might be spending a long time using one, it's not good for you! Or, perhaps you and a few friends go fishing together, and want to cut down on the equipment you have to carry? A bivvy that could fit two or three men would mean less gear to lug around with you, after all!
But are there any on the market that are 'plus sized' bivvy's? In fact, there are, and we're here to tell you more about them. Whether you want a two, three or even four-man bivvy there is something for you, and you may be surprised that they will not only cut back on what you need to carry with you, but also save you some money when you buy. We've found three choices that you should know about if you're in the market for a bigger than normal fishing bivvy, so let's have a look at them in more detail.
Biggest Fishing Bivvies
1. Phenom Tackle 4-Man Bivvy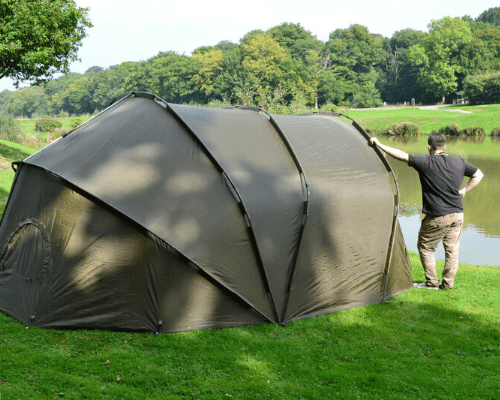 Claiming to be 'the world's first 4 man bivvy', this example from Spyder Tackle (originally Phenom Tackle) is a great example, and might just lay claim to be the answer to 'what is the biggest fishing bivvy'? It is designed as a 4-man bivvy and is made in the preferred 'pram' style construction so is easy to put up and take down, and is a quality item that comes complete with a second skin ad twin rear vents, for added comfort and ventilation on those hot days.
Now, what you're interested in is the size: this model measures – when erected – a massive 200cm (around 6-feet) in height, and has a floor plan of 460cm deep by 350cm wide. That's easily large enough to pass as a four-man, and is far bigger than any bivvy we have seen elsewhere. The bivvy features the usual window opening, is made from material that the makers claim is twice as strong as usual, and it is very popular with buyers. It also comes with a heavy-duty groundsheet, mosquito nets and a bag, and is a sensible price for something of this size.
2. Extra Large 3-Man Bivvy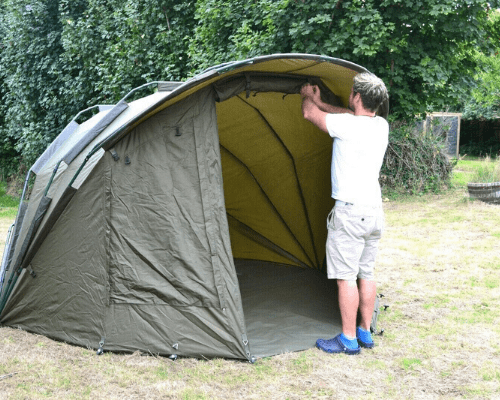 This is another product form the Spyder/Phenom range, and is essentially a smaller version of the one we have described above. Designed to be used as a 3-man bivvy, it also comes in the pram style for ease of use, is made from double-strength material, and is supplied with groundsheet, all the pegs you need, plus it comes with a second skin as standard.
This example is not as tall as the one above at 184cm in height – that's just a touch less than 6ft – and its floor coverage measures 390cm x 310cm, which is still a good sized bivvy for use by two or three – but would be a push for a fourth man. With ultra-light aluminium poles – as used in the above – making this easy to carry, it's a great example of why you might want to take one bivvy for three of you, rather than carry one each.
3. MK Carp 3.5 Man Bivvy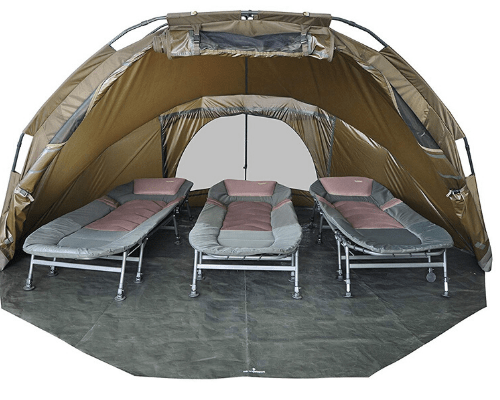 This example comes from the MK Carp brand and is marketed as a 3.5 man bivvy; this is not unusual, as while it would sleep three in comfort, four might be pushing things a touch. It features  simple and lightweight aluminium frame and comes with all the accessories you need to erect it and use its safely. The covering is strong and waterproof, and the design incorporates the usual aspects you would expect for wind protection too.
Width and depth measure 354cm x 365cm, which  is a pretty good space for three people, and the height is a little less than six foot at 180cm, which is tall enough for most uses. A heavy-duty groundsheet is provided and it comes with a clear window and a mosquito net, and all in all it's a very nice, large-sized bivvy that is popular with buyers, and comes from a brand with a reputation for quality products.
That's three of the bigger bivvy's on the market for you, and we believe each is worthy of taking a closer look at, so do some further searching and lighten your load next time you head out for a fishing trip with friends!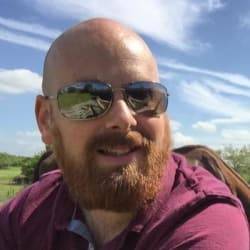 Mike has over 30 years of fishing experience in carp fishing and general coarse fishing. He is always looking for the latest fishing kit to try out and talk about and needs a bigger shed due to all the fishing tackle he owns. You can read more about him here.