Shard End is the historic suburb of Birmingham, located in the West Midlands, central England. Characterized by it mostly rural aspect, this area of the city was mostly farmhouses and cottages up until the Second World War. Now it is a developing area of Birmingham, but that doesn't mean it cannot offer some fantastic prospects for relaxation and fishing. Today we are visiting the Shard End Lake, a lovely green area of this suburb, managed by the Kingfisher Country Park. Not only is it a tranquil haven for the locals, it is also a haven for various birds and a good angling spot as well. For Birmingham natives, this is good news – when you're looking for a quick cast or two to unwind after a tough day, just pop down to Shard End and try your luck.
The lake borders the York Woods, and is situated at the very edge of town. It was long ago the site of a quarry, but has since turned into a pond and stocked with a good choice of coarse and specimen fish. These include roach, tench, bream, and perch, and also specimen carp and pike, both of which can go up to 30 lbs. For a local pond, this is not at all bad.
The option of night fishing is possible on this water, presumably with previous booking, but considering it is basically in the town, this might not be valid all the time.
Some friendly anglers have shared their experiences and told us the best tactics that worked on Shard Pond. For open ended feeders, it is best to use them near the furthest islands – which are a prominent feature of this water. Nearer the small boat house wagglers should work best. By the small makeshift jetty on the lake pike was recorded to bite most often.
The depth of the water is decent for the water of this size, and since it is man made after all, not many natural features set it apart. Some tree lines on the farther end, a bit of shoreline growth and that's it.
Shard End is also loved by the locals as a haven for wild birds. Wrens, home sparrows, starlings, grebes, and moorhens can all be spotted during the season. River Cole is only a stone's throw to the south, so that's worth checking out as well. Together, these two waters create a really wonderful and inspiring patch of greenery in the urban surroundings of Shard End and Birmingham proper.
That also brings us to the views and the ambience. On one side the view stretches out to offer some welcomed nature, meadows and trees. But on the nearer side the tree lines are slightly marred by the housing estates and roofs poking out defiantly. That's just one of the aspects of having an angling location in an urban setting, but even so, it provides a more than welcome change from the usual stone and asphalt of the city.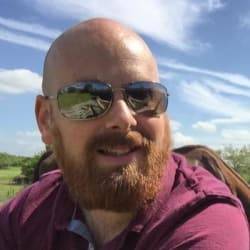 Mike has over 30 years of fishing experience in carp fishing and general coarse fishing. He is always looking for the latest fishing kit to try out and talk about and needs a bigger shed due to all the fishing tackle he owns. You can read more about him here.