Angling locations such as the Peel Hall Moat in the Wythenshawe are very rare and very exceptional. This picturesque location in the Greater Manchester area is a real gem for anglers and all that beacause of the dedicated preservation and protection efforts from the local residents. It has a rich history, a real English charm, and best of all – good angling. For Wythenshawe locals and Manchester anglers, this idyllic location is a jewel – and today we are presenting it to you as well. Time to learn more about the angling in a unique way. Join us!
Peel Hall was an Elizabethan manor house belonging to the noble Egerton family of old, prominent figures of the Wythenshawe history. The house, centuries old, fell into gradual disrepair and was demolished in the sixties. The only remnant is the picturesque moat and a bridge over it. Contrary to the usual practice, the moat was not defensive – it was just a way for wild animals to stay away.
Luckily, after the demolishing, the area was turned into a lovely country park with plenty of lovely greenery and hiking paths – a favorite of the locals. And in recent years, citizens teamed up and cleared the decades worth collection of mud and silt and muck, and restocked this moat with a good selection of carp and bream – making it into a great fishing spot. The carp can be quite decent for the size of this water.
The moat is certainly not as big as the usual fishing venues, and would cater most to shallow fishing, but it is nonetheless an exceptional location. If you love historic and lovely places, and quaint, small scale, peaceful angling, the Peel Hall moat is the venue for you. Nestled in the lovely park grounds, with the lovely bridge which is six centuries old, this water is a real llitle gem, worth exploring.
Anglers report that the carp and the coarse fish all respond equally to baits such as pellet, maggot, corn or bread – the usual affair. Some even say that a couple of huge carp over 30 lbs are lurking the water, being a hard to catch prize. Either way, it is well worth your attention. If you are a local looking to spend a day off angling and relaxing at your doorstep – this is surely the way to go. Wythenshawe citizens can surely appreciate this little angling spot.
Sadly, the bridge is often a target of unruly youths and other shady figures, who deface and vandalize this historic piece of Wythenshawe history. Local populace volunteered and created a "Moat Watch", hoping to secure the area and prevent further vandalizing. Visiting this venue can certainly help to maintain an active presence at the Peel Hall Moat and Park, and deter further vandals from coming. And besides keeping the place alive and thriving, you can enjoy some wonderful angling as well. See for yourself – the Peel Hall Moat has a lot to offer to every angler!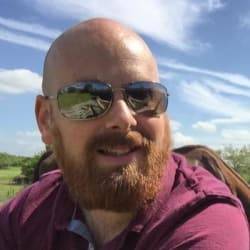 Mike has over 30 years of fishing experience in carp fishing and general coarse fishing. He is always looking for the latest fishing kit to try out and talk about and needs a bigger shed due to all the fishing tackle he owns. You can read more about him here.