Based at Carrgreen Lane in the Lymm area of Warrington, Heatley Mere is well-placed fishery owned and managed by Dunham Massey Angling Club. With beautiful surroundings, the fishery features a lake that is technically defined as a flash. A flash is basically a natural collapse or trench that has formed in the land that fills with water, either from rain or in the case of Heatley Mere, from a little brook. It covers an area of around 3 acres and has depths ranging from 3ft to 6ft.
In addition to the main lake, there is also another called Little Mere, much smaller and about 50 yards away. Both lakes contain a plentiful stock of various interesting and desirable fish such as crucian, roach, Chubb, perch, bream, tench and carp. The carp you can land at Heatley Mere can run to weights as much as 20lbs+.
It's important to note that there are 20 numbered pegs where you can fish from and that on the side of the lake where there are houses, no angling is allowed and there is a two-rod limit if you are fishing with a group (you may be allowed to fish with three if you are on your own, upon request).
Although you can fish throughout the year, if you want to fish at night, you need to have a permit and book in advance online. A lot of work has bee done to make this a quality place to land some decent catches from and judging by reviews, it more than lives up to its reputation and all the effort by the owners was not in vain.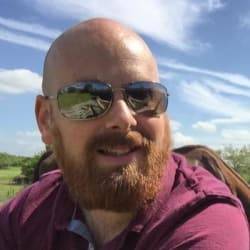 Mike has over 30 years of fishing experience in carp fishing and general coarse fishing. He is always looking for the latest fishing kit to try out and talk about and needs a bigger shed due to all the fishing tackle he owns. You can read more about him here.