Staffordshire is the crowning region of the West Midlands, a place of fantastic rural landscapes, and of course – top quality angling. With some of England's finest fisheries located in this historic county, it really offers great variety for all tastes. If you're out for double digit carp, casual coarse fishing, or perhaps pike and trout – you're bound to find it here.
And today we are visiting one of the oldest Staffordshire fishing locations – the Gailey Reservoir. Specializing in trout fishing, it is a great location to sharpen your trout angling skills, or just to spend a quality day in the picturesque English countryside.
This old reservoir is located close to the market town of Cannock, and not too far from the M6 and A5. It's easily reached from all nearby major cities, making it a good choice for a quick visit or a weekend stay. When size is considered, this lake is one of the largest waters in Staffordshire, with 35 acres in size. This ensures plenty of variety and different challenges, as the mile long bank features some unique aspects. Islands, lily pads, and deep margins can give you an upper hand and provide a different tactic than usual.
The depths can vary as well, with the lake being a bit deep close to the center – fish can be elusive, but patience pays off.
The water specializes in trout – it is stocked with a good variety, with rainbow, brown, blue, and tiger trout available. Arctic char can be caught as well. Considering that trout fisheries are few and far between, this specialization comes in handy for all trout anglers. There is also winter pike fishing available. Catches can go up to 30 lbs.
After the Gailey Reservoir was put under the management of the Prince Albert Angling Society, it was stocked with around 7,700 lbs of specimen carp. These are now reaching double figures and have turned Gailey into a coarse fishing venue. This good variety gives you plenty of options and caters to both carp and trout anglers.
On site there is an option of hiring a motorized boat and fishing from the lake center.
Matches are held regularly at Gailey Reservoir, with addition of Junior matches – a perfect chance to bring your lad on a fishing trip. Prince Alber Angling Society operates the reservoir, and has made it into a day ticket venue.
Gailey Reservoirs are a pair of canal feeder reservoirs, and are separated by a dam. The lower reservoir is not a fishing venue, and is used by the South Staffordshire Sailing club. The entire area is a nature reserve, with plenty of wonderful greenery all around, with islands and great population of herons and other birds and wildlife. The banks are characterized by dense reed beds and plenty of colorful flora.
Even though Gailey Reservoir has lost its character of a trout fishery, it is nonetheless a great location to visit. Carp, trout and char in great sizes are one swing away!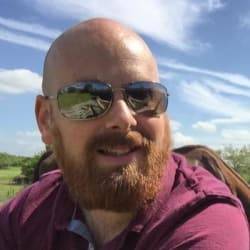 Mike has over 30 years of fishing experience in carp fishing and general coarse fishing. He is always looking for the latest fishing kit to try out and talk about and needs a bigger shed due to all the fishing tackle he owns. You can read more about him here.