West Drayton is a small suburban town in the London Borough of Hillingdon. It is quite close to the busy streets of the capital, but even so it retains a bit of peace and quiet, as some of London's furthest suburbs can. It is nestled close to the beautiful Colne Valley Regional Park, and just 4 kilometers from the Heathrow Airport. The area around West Drayton is dotted with ponds and small lakes, and as such it is a fantastic region for some good fishing. And just beside West Drayton, on the edges of the village Colnbrook and the popular, large Wraysbury Reservoir, lies a small lake known as Colnbrook West. Today we are exploring how's the fishing here, and how good of an experience can you have on the edge of urban surroundings and the growingly industrial zone. Join us!
Colnbrook West is a medium sized gravel pit with a roughly square shape, and offers plenty of features both on the margins and on the water. It is a good local venue for coarse and specimen carp fishing, and enjoys a somewhat good reputation for its angling. The water is roughly 4.5 acres in size and has a good stock of fish for its size. There is a good choice of coarse fish, with tench up to 11 lbs and bream up to 12 lbs really standing out. Of course, there is plenty of specimen carp, and they are one of the better heads in the region, averaging in 20's, and going up to 25 and 30+ lbs. The lake record weighed in at 38 lbs. These numbers are certainly impressive for a venue of this size and in urban surroundings.
The water is surrounded by tree lines and offers a somewhat sheltered ambience. You must keep in mind that the pond is situated in between two industrial buildings – the large Grundon Waste Management complex on one side, and the Grundon Lakeside Road Incinerator on the other. This can somewhat spoil the ambience, especially if you are into natural surroundings and a peaceful experience. But otherwise, they in no way affect the quality of fishing.
On site there is ample car parking and toilet facilities, which are shared by the adjacent venue named Orlitts.
The water itself is characterized by a good amount of features that can bring a good challenge and allow you to use some new tactics. There is a small island on one side, and plenty of reed beds, lily pads, and silt patches. The depth is also good at places, considering the size. Keep in mind that during the opening summer season, this venue can get a lot of traffic, so finding your place in that first week can be a bit difficult. Even so, it is well worth your time and effort to come by and take a few swings. The sheer size of the carp in this water is reason enough! Just don't be dissuaded by the somewhat urban surroundings.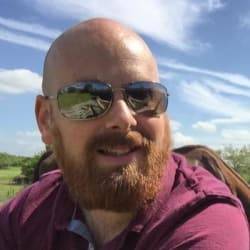 Mike has over 30 years of fishing experience in carp fishing and general coarse fishing. He is always looking for the latest fishing kit to try out and talk about and needs a bigger shed due to all the fishing tackle he owns. You can read more about him here.