Aylesbury Vale is located in Buckinghamshire, and is one of the crowning landscapes of the typical English countryside. Rolling hills, wood copses, plains, agricultural meadows, this area has all it needs to offer perfect relaxing and enjoyment. And it is in these landscapes that the village of Mursley is located – a historic, cozy little place that is so inviting with its sleepy character. This is the home of a wonderful trout fishery, that has a long history behind it. Church Hill Fishery was known throughout the 70's and 80's as one of the finest trout fisheries in Buckinghamshire, and it remains a great venue to this day. Trout fisheries aren't that numerous in the UK, and Church Hill is a fine option if you're looking for one near you.
It consists of three man made lakes that were designed with trout fishing in mind. They have a fantastic design, and are quite large in size – 2.5 acres for the smallest, with the other two being 5 and 7 acres in size. All together it makes for quite an impressive fishery, with a lot of pegs – it's hard to crowd this venue, so you can rest assured that you will have a lot of room, privacy, and quiet. Rainbow trout is the main fish at the venue, and was a premiere location for trout angling, some 30 years ago. Anglers report that trout at Church Hill responds fabulously to a variety of "flies", such as the famous Buzzer, the Invicta, Daddies, Damsel, or Montanas.
The venue is also home to a diverse array of flora and fauna, with many wild fowl being observed here. It is a natural reserve, with a lot of species present here – all inside this picturesque and pristine environment. The landscapes surrounding the venue consist of beautiful pasture land, with the grazing sheep doting the horizon. This environment is certainly one of the finest to fish in, especially when it is trout fly fishing in question.
The waters, large as they are, have a lot of features that can make your angling more challenging and fun. The depths vary from 11 feet at the smaller lakes, all the way up to an amazing 20 feet in the large one. Deep margins, islands, reed beds, and lily pads are all the features at hand. There are several pegs that extend almost onto the water, giving you a great command over the water and allowing for a much greater cast.
On site there is ample parking and the basic toilet facilities, as well as lodges with catering which can be booked by groups of 10 to 30 people. If you're looking to head out with you mates and enjoy some high quality trout angling, this can be a great option – book a lodge for a cozy long weekend. The angling season at Church Hill lasts from the 2nd weekend in March all the way to the end of November – the perfect time to enjoy the landscapes!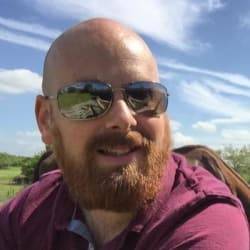 Mike has over 30 years of fishing experience in carp fishing and general coarse fishing. He is always looking for the latest fishing kit to try out and talk about and needs a bigger shed due to all the fishing tackle he owns. You can read more about him here.