Going across the channel for your next holiday can be quite the decision! New surroundings, new things to see and explore, and a totally different scenery are just some of the things that await you. But what about the main thing? How's the angling? Well, today we are giving you the answer!
A lot of UK anglers have been vacationing across the channel in France and in Belgium. This country prides itself on some really fine carp fishing, and is home to some record breaking specimens. Don't let the different language and currency deter you. It is quite accommodating for UK anglers, and with our guide on their prime fisheries, you'll have no troubles whatsoever. A whole world of new and fresh angling experiences awaits across the channel – it's up to you to explore it!
Carp Lakes in Belgium Worth Visiting
Blues Lake
Just a two hour drive from the ferry port of Calais, the Blues Lake fishery is the closest place you can get once you're across the channel. This location is especially designed to cater to UK anglers that are looking to experience the best carp fishing holidays, and is the location with some of the finest all inclusive carp fishing in Belgium. This lake is very well mature and roughly seven acres in size. It is superbly stocked with the finest specimen carp, and boasts catches up to an amazing 67 lbs. That means you're ensured finest carp angling there is. There is plenty of lily pads and shore growth around the lake and it offers a diverse approach, suitable for different methods and tactics. Moreover, Blues Lake is surrounded by wonderful greenery and dense woodlands, offering perfect peace, protection and relaxation in picturesque Belgian nature. Beside it is another lake, roughly 5 acres in size, also stocked with quality carp, going up  to 47 lbs.
Besides the large car parking on site, anglers can also use the special lakeside cabins which offer all necessary amenities, including electric appliances and toilet and shower facilities. There is also a local supermarket, just 5 minutes away, and you can easily stock up. The prices for such a holiday are fair – for the main lake a seven day fishing experience would cost you £275, with several other options available. There is also the option of renting out the entire lake at a higher price, making it suitable for a holiday with your mates. What is better than relaxing with friends, enjoying some beers and chasing that elusive 60 lbs carp? For everyone looking for some serious carp angling across the channel, Blues Lakes are the best choice!
Cavagnac Lake
The famous "Home of the Legends", the Cavagnac Lake offers first class carp fishing across the channel. This French fishery is famous for its record breaking carp catches. When it comes to the finest carp angling, you can't go wrong by visiting Cavagnac Lake. Set in the breathtaking and peaceful countryside, this lake is notorious for the stock it contains. The catches are averaging at 30 lbs, which in itself speaks volumes. Moreover, the lake is very large, with 52 acres in size you are ensured the angling of a lifetime. And besides its legendary carp catches (some are real monsters) you can also enjoy some coarse fishing as well – decent pike, tench, roach and perch are all available.
The facilities are of course, top notch, allowing you to relax fully and also enjoy the stunning views that are present all around. There is a large lakeside lodge, offering electricity and all the amenities. Wi-fi is included, as well as showers and all toilet facilities. Cavagnac offers several holiday packages so do not hesitate to get in touch and find the one that best suits your needs. The perfect carp angling holiday across the channel is just a step away!
De Karper Hoeve
De Karper Hoeve, or The Carp Farm in English, is one of the finest angling locations in Belgium. Located in the rural area, one hour away from the city of Antwerp and along the river Nete, this location will charm you with its countryside appeal, and especially with its first class fishing. Specializing in trout and salmon it is also one of the best carp fishing lakes in Belgium. It consists of three ponds, both of which are superbly stocked, and there is also the option of renting one of them entirely. That is a perfect destination for large groups looking to rest and enjoy some competitive angling.
Their main water is specializing in trout and salmon, with some really wonderful catches recorded. The smallest one is trout only, while their larges water is a specimen carp lake. It covers around 6.5 hectares, and the largest carp caught weighed in at 57 lbs! Quite a decent catch. The prices start at €20 and up, with plenty of different options available to you. Besides the basic toilet facilities on site, you can enjoy their beautiful lakeside tavern, where you can relax with some refreshments or hot food and drinks.
Without a doubt one of the prettiest and friendliest fishing locations in Belgium, De Karper Hoeve will offer you everything you need in order to enjoy a proper fishing holiday across the channel. Nestled in the picturesque greenery iconic for Belgian landscapes, these lakes are certain to take the breath away!
Book your holiday, and who knows? The angling experience of a lifetime could be just a short drive away.
For all those of you, both the veterans and the beginners, who have experienced the waters of UK, it is time for a new and refreshing challenge. And one of the best locations for that is across the channel in France and Belgium. Famous for their enormous carp, these fisheries will put your skills to the test. So the next time you're booking a holiday, turn your eyes across the water – the best fishing trip of your life could be just across the channel. And with our guide, you have it all sorted!
If you want more of an adventure and want to head outside the EU then you should have a look hiring a fishing charter.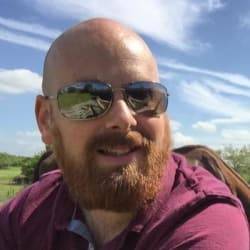 Mike has over 30 years of fishing experience in carp fishing and general coarse fishing. He is always looking for the latest fishing kit to try out and talk about and needs a bigger shed due to all the fishing tackle he owns. You can read more about him here.