Many carp fishing lakes Gloucestershire based are set to a stunning backdrop of the Cotswolds and provide some of the most rewarding angling experiences. With all venues nestled in between many of the town's picturesque of villages, fishing here offers instant access to some fantastic sized catches, alongside clean, practical facilities.
Here we look at seven carp fishing venues in the Gloucestershire area, all allowing you to fish for some of the most premium and healthiest of stock.
Carp Fishing Gloucestershire Lakes Well Worth a Visit
Horseshoe Lake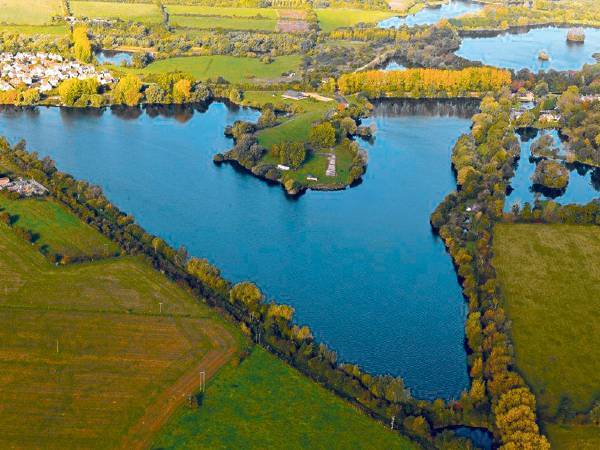 Scaling the stunning borders of Gloucestershire and Oxfordshire, Horseshoe Lake belongs to the Carp Society and is for use by all registered members.
With a fantastically low priced membership, here you have access to an organisation with over 6000 members!
This allows you to utilise a 62-acre lake using a maximum of two rods.
With specimen carp numbers ranging from 800 to 1,000, you'll also find pike, perch, tench, bream, roach, and rudd.
With many events and matches taking place throughout the year for members, access is available using hourly daily tickets.
Allowing 75, including 21 double, swims the venue boasts records of 47.8Ib with an average of 21Ib.
Onsite you'll also find a toilet and shower as well as a tackle shop. There's also a lodge offering events with full catering facilities.
Best of all, this is a society which prides itself on offering a warm and welcoming experience to all, with knowledgeable anglers on hand to help out at all times.
Churn Pool Fishery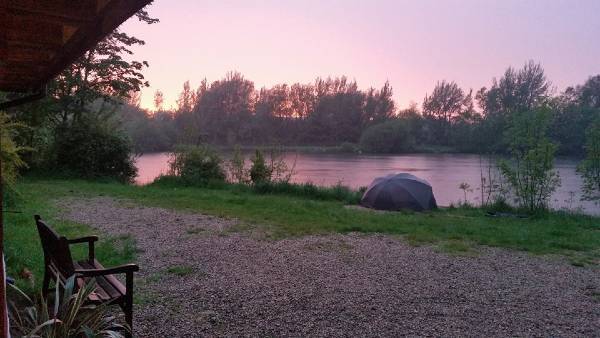 Claimed to be one of the UK's premier of carp fishing exclusive venues,  Churn Pool Fishery boasts an impressive range of mirror and common carp in a variety of strains.
This is an exclusive lake which can be found on the Cotswolds Water Park, catering to exclusive bookings.
Suitable for groups, it accommodates up to five anglers at a time but also encourages smaller groups and indeed families.
A 4.5-acre lake, this fishery claims some of the most attractive looking carp in the business!
With an option to fish all around the lake, this is a gated and secure environment and one which has merged with the stunning natural backdrop around it.
With plentiful onsite facilities included in your booking, you're able to use an outhouse offering kitchen facilities, a bait freezer, running water and toilets.
There are even BBQs and chimeneas next to picnic tables dotted around the lake.
Though no matches or events take place here, anglers can consider making the most of the possible 40Ib catches and book into the dedicated onsite lodge if preferred.
Ham Pool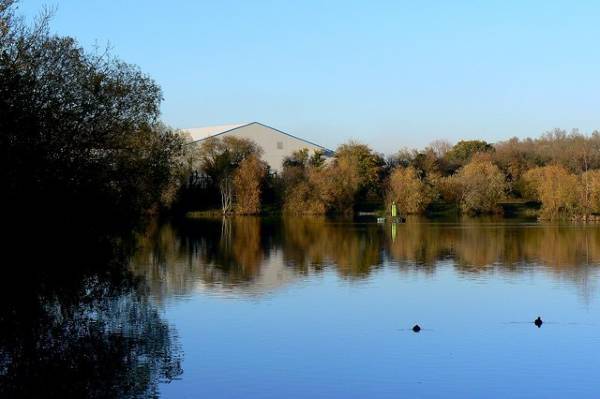 Ham Pool is nestled outside of Cirencester and is a dedicated part of the South Cerney Angling Club.
A stunning setting, it's a lake of around eight acres and averages around 12 foot deep. Packed with a good stock of carp plus tench, pike, roach, bream, rudd, and crucians, the lake also offers a few marginal shelves for convenience.
With most swims easily accessible by car, you'll also find onsite toilet and shower facilities, with disabled access as well.
A smaller and quieter day ticket venue, you will even find a dedicated clubhouse and bar that anglers can visit after a hard days fishing!
Lake Pochard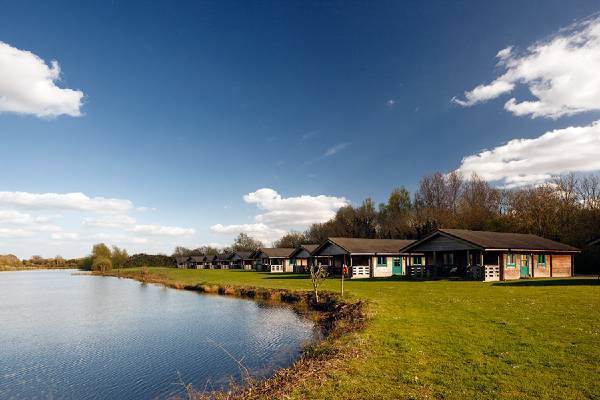 For a great fishing experience set against some of the most spectacular scenery, Lake Pochard in Cirencester offers access seven days a week.
The first lake choice is Walters Lake, which is a purposely built match lake. Established over a decade ago, it's now a mature and ideal pleasurable match fishery choice for many. Boasting 73 pegs, stretching 4.5 acres and consisting of four lanes, the clever design of this lake ensures even when it's a busy match day, you'll feel like you have your own little lake to fish on! Outside of matches, it can be used as a day ticket lake for all to enjoy.
The second lake choice is Pochard Lake. This is a big carp fishing Gloucestershire specimen lake, covering 11.5 acres, and is fully stocked. Here you'll find both mirror and common carp, some weighing as much as 35Ibs. However this lake is specifically for those residents or owners of lodges on the park, whereby fishing during your stay is free.
With a modern waterside café, which all anglers have access to, alongside WC facilities here, parking is also readily available and completely secure.
Elton Carp Lakes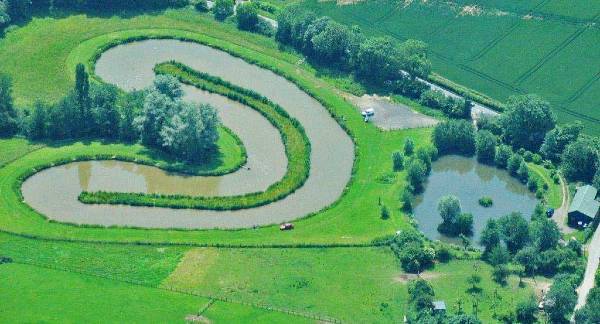 Based near Newnham-on-Severn, Elton Carp Lakes offers two exclusive lakes, with one specifically carp fishing and the other offering carp and WELS catfish.
The premodernity carp fishing lake is called The Barn Lake. This is the farm's original lake offering two islands. With a stunning backdrop of mature trees, here you'll find ten pegs along with a fantastic assortment of carp including Mirror, Ghost and even Japanese Jumbo Koi. A challenging lake with weed on the bottom, you may also find a handful of specialist WELS catfish here too. Pegs are easily accessible with one offering level ground for wheelchair users.
The other lake is Horseshoe lake, which was originally a purpose-built match lake but has now been classified as non-match – due to fish outgrowing the category and the catfish injection. Yet this still boasts strong carp breeds of 20Ibs plus, with records of 27Ib. Another challenging lake, this is considered a favourite for night fishing.
With a maximum of three rods per angler, days tickets are available all year round. Though the facilities are limited, there are plenty of car parking spaces available.
Harescombe Fisheries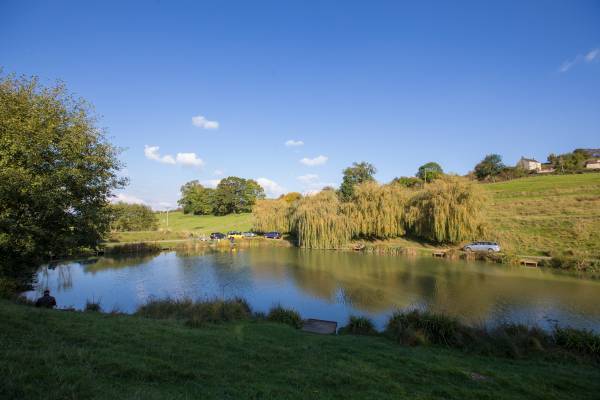 Harescombe Fisheries can be discovered in the beautiful Harescombe village. Boasting no less than four well-stocked lakes, day tickets are available, regular matches are run here, and the area is a favourite for coaches teaching both young and new anglers alike!
It's possible to drive to all four lakes with parking available at most of the pegs.
The Field Lake is the more popular choice and is stocked with 20Ibs plus carp.
The Match Lake has been introduced to allow peaceful, pleasurable fishing in the other original three lakes at all times. With 30 pegs available here – on the days when matches aren't running, anglers are welcome to practice here.
Meadow Lake offers a large head of double-figure carp, while the smaller Pasture Lake is ideal for those newbies or juniors.
Facilities here include a café offering warm drinks alongside a selection of items for purchasing.
Final Words on Carp Fishing Lakes in the Gloucestershire Area
These are some of the more popular choices and well-stocked lakes in the Gloucestershire area.
However, to ensure the best all-round experience, we highly recommend visiting each website in advance and double-checking further details with your preferred venue. This is before you head off for the day. Thus, you ensure a perfect day of peaceful angling ahead.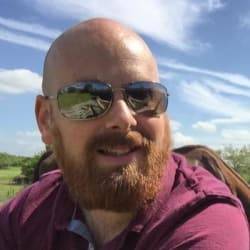 Mike has over 30 years of fishing experience in carp fishing and general coarse fishing. He is always looking for the latest fishing kit to try out and talk about and needs a bigger shed due to all the fishing tackle he owns. You can read more about him here.