Located in Cambridgeshire, England, Peterborough is a cathedral city north of London and near to the River Nene. The city boasts an ancient monastery, Medeshamstede, which is now Peterborough Cathedral. Historically part of Northamptonshire, the topography of the district is largely flat, with the beautiful Fens coastal plain to the east and some areas lying below sea level. Peterborough boasts an impressive collection of fisheries to explore, ranging from small secluded lakes to huge nature reserve complexes. So, whether you are a tourist looking to explore Peterborough alongside their fishing scene or a native Brit in search of new waters, look no further than this guide to carp fishing in Peterborough. Get ready to dive (or cast your rod) into a whole new world!
Carp Fishing In Peterborough (Some Great Venues)
Sibson Fisheries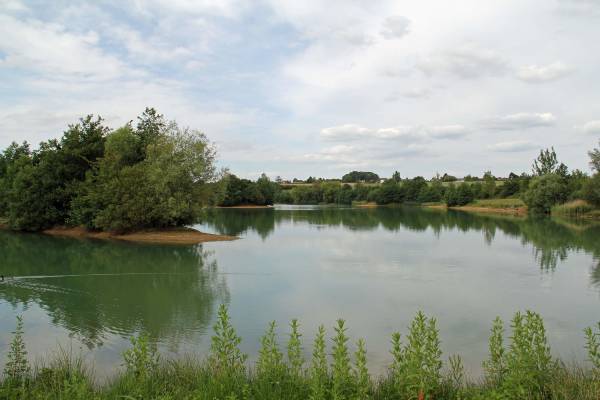 The beautiful and quiet Sibson fisheries boast a large, well-kept head of carp, sublime lake views and great lake facilities. They boast over 100 Common & Mirror carp to 30lbs! Owned and run by the Bradshaw family for a number of years, Sibson fisheries are a long established, well-reputed choice for anyone seeking carp fishing in Peterborough.
Located west of Peterborough, on the banks of the River Nene, Sibson fisheries offers a secluded lake stocked with several varieties of fish. You can find carp (of course), bream, rudd, roach, tench and other common course fish in the waters.
Sibson fisheries have a simple philosophy, but do offer ample parking and toilet facilities.
Northey Park Fishery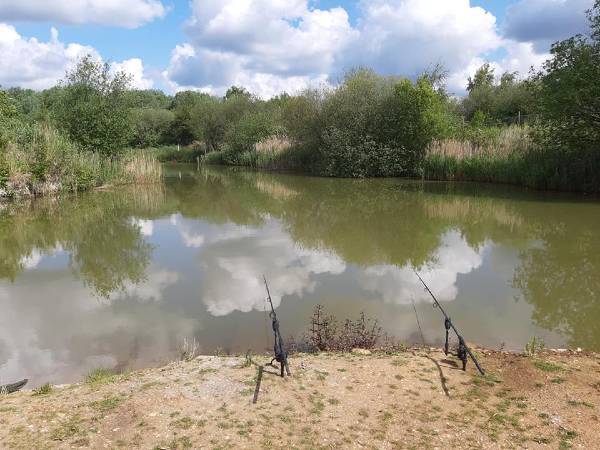 Those searching for carp fishing lakes around Peterborough should not miss Northey Park fishery. They are privately owned by Elliot and Susan Symak, and located in Park View, Northey Road, just outside Petersborough.
Having owned the site since 1996, Northey Park is an established fishery, and the Symaks have lived on-site for 15 years! Given that Elliot Symak has been a professional carp-fisher since the 1960s, Northey Park reflects the great care of a fisherman who truly loves his sport and his fishery.
With one exclusive lake called Patson's, one 24hr lake called Whiskers, and three day only ponds (Canal, Birch and Holly Howe), Northey Park has something for everyone. Whilst Patson's requires a yearly ticket, all three ponds can be accessed with a day ticket. For the catfish lake, bookings are required.
Each lake also has different varieties of fish: Whiskers, as the name suggests, stocks only catfish. Patson's is carp only of up to 40lb, and the ponds include carp, silver beams, tench and crucians.
Northey Park is a nature reserve as well as a fishery: visitors are expected to respect the environment, and the reserve of 90acres holds an array of wildlife beside fish! Badgers, foxes, owls and deer are among the fauna spotted on the site. There is a car park, and BBQs are allowed, but aside from this it's a peaceful and quiet fishery.
The Rudd Match is held here at the start of the season, which begins in June.
Bainton Fisheries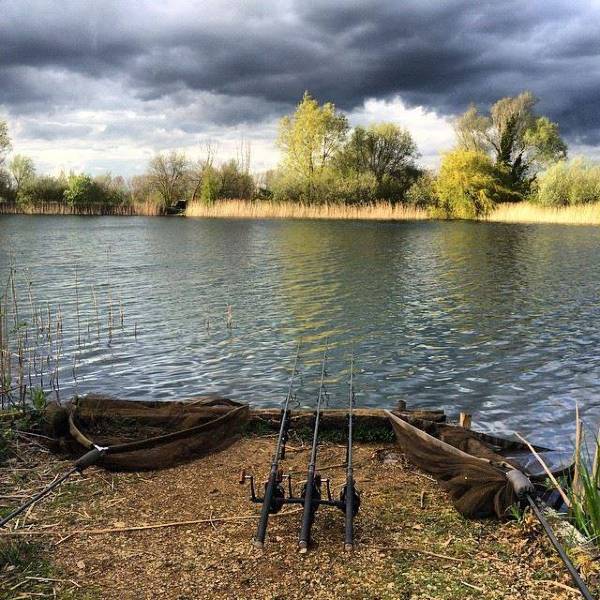 Bainton Fisheries are a huge complex of 8 lakes with a wide variety of fish for enthusiasts and specialist anglers alike. They are located a few miles East of Stamford, on the border of Cambridgeshire and Lincolnshire in the Welland Valley.
The lakes boast fish species of Carp up to 51lb, Pike up to 32lb, Tench up to 12lb, Bream up to 13lb, Rudd to 3.5lb and Perch over 3lb. They also have Crucian carp, catfish and eels!
Under new management from 2000, the fishery now runs like an NGO, with profits largely being used to conserve the area and improve the quality of the fishery for anglers. Bainton also offers water permits for conservative-minded anglers to incentivise the protection of the flora and fauna in the fishery, and caps yearly permits at a certain number to prevent over fishing.
All lake sites are accessible for car, making Bainton accessible for everyone. The Bainton community features a meeting at the end of the season, a newsletter and an active Facebook group to provide feedback and improvements.
There are no facilities like cafes and clubs, as Bainton aims to be as ecological as possible. There are no toilets on the site, and the nearest shops are in Stamford and a local petrol station. Takeaways can be delivered to the site – just make sure to take all of your rubbish when you leave!
Bluebell Lakes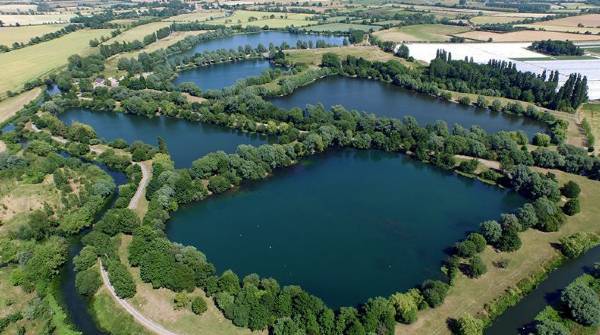 Bluebell lakes is a renowned fishery in Tansor, just outside Petersborough. They were established in 1994, and are mostly known as a site for day-fishing. Bluebell lakes have five lakes to choose from: two big fish waters called 'Kingfisher' and 'Swan', two mixed fish waters called 'Bluebell' and 'Sandmartin', and one Carp Lake called 'Mallard'. You may also choose to fish on a 2 mile stretch of the River Nene!
Big carp are found in abundance here, but there are many other species such as pike at 41lb, bream, tench, chub, perch and roach. Pike can be found in all lakes aside from the big fish lakes.
Whilst there are no cafe or club facilities, there is a diner located 1.5 miles from the lakes, and takeaways that are happy to deliver to the car park! There are showers, toilets, and even a tackle shop! The shop sells top name brands aimed at Carp and Pike – lures, traces, baits and floats can all be found here.
Conclusion
Peterborough is a fantastic town located in the South of England with many great fisheries nearby. Having explored the town and historical cathedral, going to fish in the great outdoors is a perfect activity! The banks of the River Nene prove to be beautiful and plentiful fishing locations, with a variety of lakes and nature reserves to choose from. Sibson fisheries are a quiet and secluded choice, whilst Bainton fisheries are a huge complex with eight lakes to choose from. Northey Park is an incredible nature reserve aimed completely at conservationists and environmentalists, whilst Bluebell Lakes is also a great option, particularly for pike fishing.
No matter who you are – pleasurer or professional angler – the fisheries near Peterborough have something for you. What are you waiting for – go fish!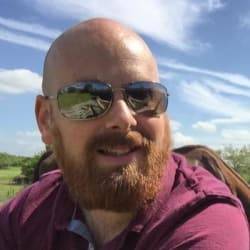 Mike has over 30 years of fishing experience in carp fishing and general coarse fishing. He is always looking for the latest fishing kit to try out and talk about and needs a bigger shed due to all the fishing tackle he owns. You can read more about him here.