In today's day and age, a proper angler always has to go along with the modern trends. To stay informed, up to date, and well equipped, can be a world of difference when it comes to success in carp angling. And in our time when smartphones and apps are bringing so many useful features, angling can only get easier! That's why today we are bringing you our own list of the best free carp fishing apps – from anglers to anglers!
Get one step ahead of the game with these useful apps and bring your carp fishing tactics to an entirely new level. These nifty tools can help you in many aspects, and best of all – they are free. Join us as we explore the modern aspects of the classic carp fishing!
Let's take a look at the apps
1. Met Office Weather Forecast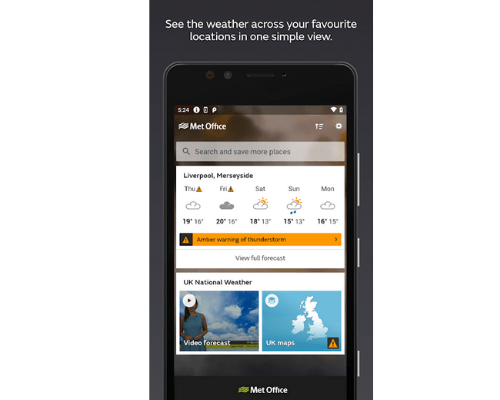 Get it on: Google Play / App Store
This concise, straight forward, and easy to read app is the ultimate when it comes to weather forecast. An angler always needs to be informed about the weather – and Met Office app is the perfect tool. Its key features are forecasts from just 1 hour to 7 days in advance; interactive UK weather maps, UK surface pressure map, real time UK National Weather Warnings, instant weather notifications, TV updates, and many more.
Stay informed – stay dry! An angler's success depends on the weather. That means that this app is a must have.
2. Carpcraft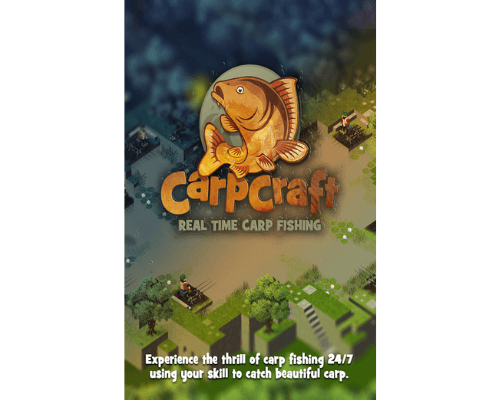 Get it on: Google Play / App Store
Regrettably, sometimes angling is just not an option. We're either busy at work, or sick, or weather is bad. That's why Carpcraft is here! An interactive angling game app, Carpcraft perfectly simulates the thrills of coarse and carp angling.
A good chance for beginners to have fun and learn a bit more about angling. This app is a detailed, featuring several virtual fisheries, different swims, features, and variety of fish. Learn about different tackles, fishing methods, floats and ledgers, and all about angling. Have fun and learn – at the same time!
3. Fox Swim Mapper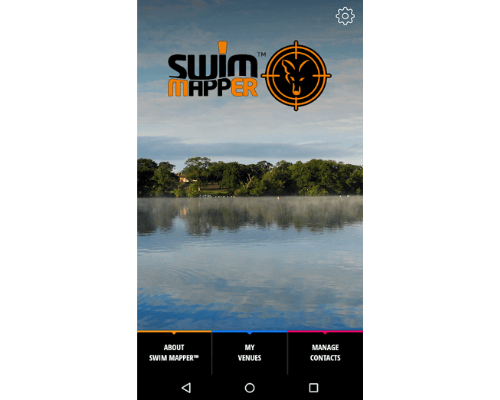 Get it on: Google Play / App Store
Every angler knows that sometimes a certain swim is just too good. And you'd certainly like to come back to it the next time. With this app it's all made so much easier. Fox Swim Mapper will help you to easily map out and log all detail about a certain swim. Record every detail about your swim using a string of photos and visual details. With this virtual notebook you can easily memorize all the great swims of your favorite fisheries, and return to them whenever you want!
4. Fishing Knots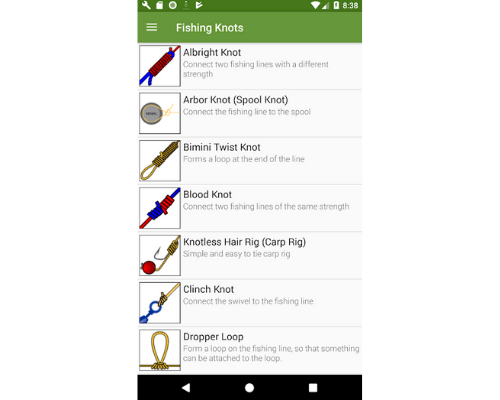 Get it on: Google Play / App Store
Knots and angling are two sides of the same coin – they go together! And some of you might have trouble with mastering those tricky knots whenever you're out angling. With the Fishing Knots app, this is past. This tool helps you learn in detail all the various knots used in angling – including the knots for attaching flies, hooks, hook baits, and swivels.
A certainly useful app for all anglers, it is definitely worth installing – it's free after all.
5. Deeper PRO Mobile App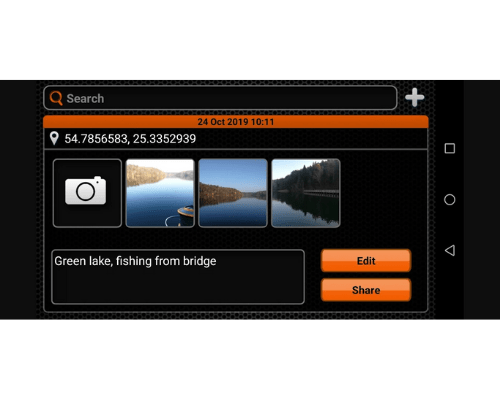 Get it on: Google Play / App Store
Often considered the ultimate angling app, the Deeper Pro is the perfect tool. Combining several useful tools into a single app, it includes features such as catch logging, mapping trips, smart angling, and catch sharing. It allows you to efficiently maximize your catch rate by mapping your favorite waters and measuring the depths. Acting as a sonar, it really is a smart angler's trick up the sleeve, and it can totally change how you experienced angling so far. Don't hesitate to get this one of a kind app.
6. Finygo!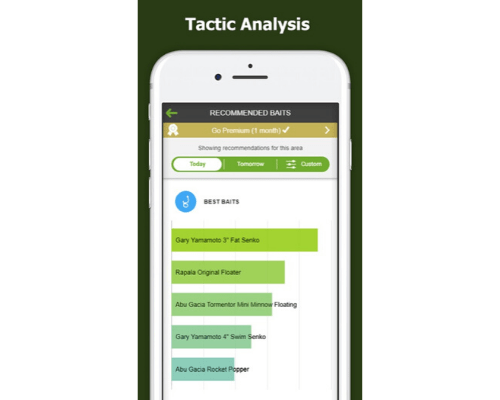 Get it on: Google Play / App Store
Finygo is a great app for recording your successes and building an interactive map of the best fisheries you visit. By entering your catches and marking the swims and locations, this smart app builds up a virtual map that will help you know the best places you are visiting. Also records your successful tactics, baits, tackles, etc. With this app you can easily pinpoint the best methods and locations to aid your angling. And all of it in a simple, tidy, smart design.
7. Carp Fishing Videos & Tips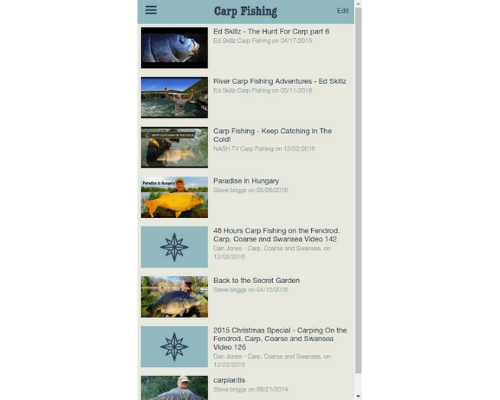 Get it on: Google Play
A successful angler never stops learning! And with the Carp Fishing Videos & Tips app, learning will be at your finger tips. This app is your personal library of the finest carp fishing videos and instructionals, giving you the option to follow and watch your favorite anglers in action. Learn their tips, see their catches, and save your favorite videos to watch later.
A good app to efficiently categorize all your carp videos, it is always updated, and certainly a good addition for all anglers.
8. Carpio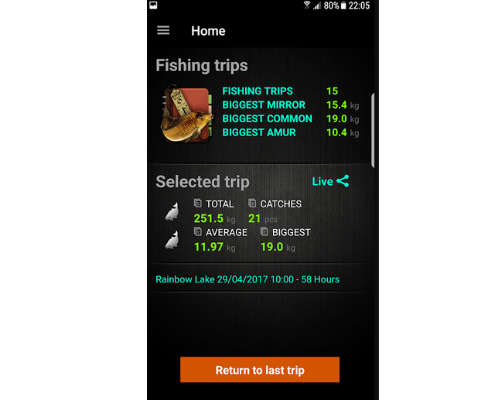 Get it on: Google Play
Carpio is easily one of the most detailed and useful apps an angler can have. And it's free! Helping you to completely track your entire fishing history, it includes options to memorize bait, tackle, venue, time, weather, and countless other aspects. Log your catches and all the details connected, count time for your rods (with alarms!), add notes, share catches, hook bait managements, and many other details. One of the most complete angler's apps, Carpio really offers a lot of tricks that can make your angling a much bigger success.
9. Anglers Log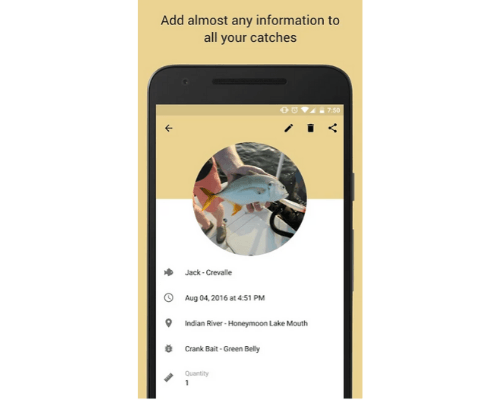 Get it on: Google Play / App Store
Having a detailed log is imperative to ensure success in your angling trips. And with this useful app it is made much easier. With Angler's Log, you can carefully record your trip details, catches, baits, weather, depths, and more. Mark and memorize your fav venues, view detailed statistics, analyze your catches and compare the successes on an interactive map. Combining several useful tools into one, the Angler's Log is certainly an app that makes angling much easier. Recommended!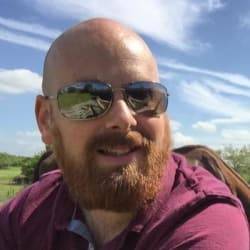 Mike has over 30 years of fishing experience in carp fishing and general coarse fishing. He is always looking for the latest fishing kit to try out and talk about and needs a bigger shed due to all the fishing tackle he owns. You can read more about him here.