Cumbria's iconic Lake District is one of the most fascinating landscapes of England, a region of pristine and wild beauty that will captivate everyone. And just as the name suggests, it is dotted with various bodies of water, especially the lonesome natural lakes that are hidden in the rugged hills and forests. In the Southern Lake District lies one such lake, a fantastic trout fishing venue known as the Bigland Trout Fishery. Lying snuggly in the picturesque wooded fells near the village of Haverthwaite and the town of Newby Bridge, it offers a totally unique angling experience, and is a real haven for all passionate trout anglers. Come to enjoy the fishing, and stay for the unforgettable nature of the Cumbrian wilderness. Fishing these waters can truly be an experience of a lifetime.
11 Acre Lake
Bigland Trout Fishery is one of the several waters that are under the careful care of the Windermere, Ambleside & District Angling Association – commonly known as WADAA – and one of the prized waters that is loved by all of its members. Luckily, this lake is not exclusive to its members – regular anglers can enjoy it as well, by purchasing a day ticket. The lake is an 11 acre, natural, mature water with a lot of features and a fantastic variety of flora and fauna around it. It is stocked with mainly rainbow trout that averages around 2 lbs, and also with a good combination of blues and larger fish ranging from 3 to 8 lbs. This water is great for fly fishing methods, and those anglers that prefer the iconic imitative style of fishing will surely enjoy this venue. What's even better is the fact that Bigland provides good fishing even in the cold winter months, through December and January, which can be a welcome change when coarse fisheries are less active.
Flies To Use
Anglers report this water as excellent to further develop and practice your fly fishing techniques. They recommend the use of black buzzers, sedge, olives, montana, or cat's whiskers. The lake itself is a hotspot of natural fly life. During the later part of the year, trout will rise to the surface to the big sedge hatches and many midges as well.
The venue operates from 8 am to sunset, and can be fished on a day ticket. These cost £22 for two fish limit, but catch and release is of course allowed as well.
Features
One of the defining elements of this venue is the nature and the features of the water. Its irregular shape provides a lot of nooks and crannies, bends and sharp corners, all of which can be used for a different approach to angling. There are several islands as well, and a good overall depth. The surrounding landscapes are simply breathtaking, and will surely captivate everyone. In the autumn especially, these wild rolling hills and rugged dense forests can be irresistible. So don't think twice – if you enjoy trout fishing and untouched Cumbrian nature – this is the venue for you!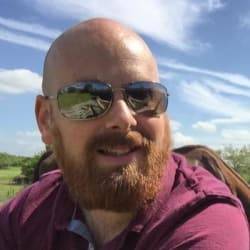 Mike has over 30 years of fishing experience in carp fishing and general coarse fishing. He is always looking for the latest fishing kit to try out and talk about and needs a bigger shed due to all the fishing tackle he owns. You can read more about him here.