[metaslider id=4110]
---
The Best Carp Bait Recipes for Beginners

Want to know some really great carp bait recipes?
We've taken our own carp bait knowledge and combined this with some great, in-depth web research to bring you an amazing resource of carp bait recipes that you can make at home.
Not only can you save money in the process, but making your own gives you the added benefit of knowing what exactly goes into your carpy bait mix.
From teaching you how to make and roll your own boilies or pre-mixing a sloppy spod mix, you're sure to learn everything you need to know about bait right here.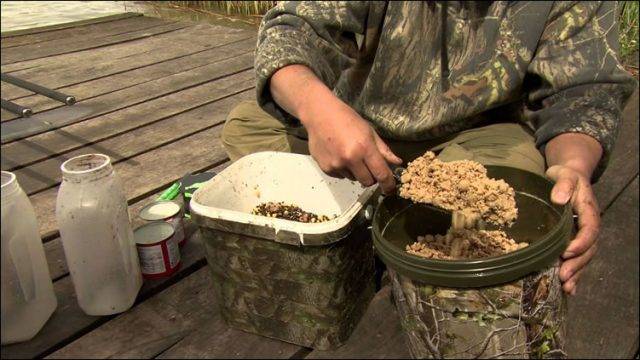 Because boilies are a great carp bait to make at home, we'll kick off with some easy, cost effective methods on this process.
Making Boilies from Home
We have to first mention salt for just a second before we start.
Carp love the stuff because it's a well known 'feeding trigger' that produces powerful signals when combined with water, irresistible to carp.
Try throwing a lump of rock salt into the margins and you'll be sure to see a carp investigate it.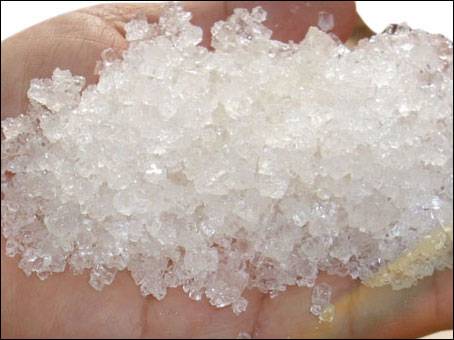 Natural minerals can be found in lakes and rivers which contain salt, and carp absorb them through their skin.
Also, additives such as fishmeal, organic acids and vinegar's react really well with salt which active a carp's sensory zones.
Right, that's that so now on too some step-by-step instructions on the process of making and rolling your own boilies.
It's important to state that once you've mastered getting the contents of each ingredient right, you can move on to adapting your boilie base mix for other bait such as ground baits, spod and stick mixes.
---
Method One:

Carp Dough balls
Carp dough balls are not really boilies, more like a compressed form of a slightly dry spod mix, but they are incredibly easy to make and a great introduction to making your own carp bait .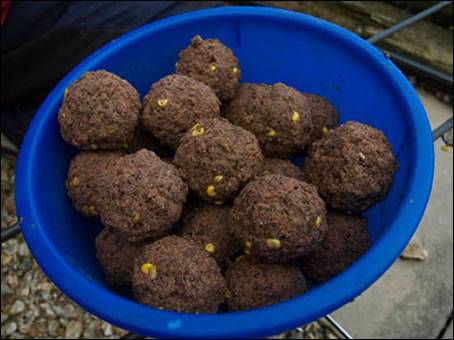 These are not suitable for freezing. They are a shelf-life boilie that can be made up the night before a session.
Ingredients
240ml plain flour
470ml yellow cornmeal
45ml strawberry gelatine
710ml boiling water
Step 1: Mix the flour and cornmeal in a bowl.
Step 2: Boil 710ml of water in a pan on the stove and dissolve the gelatine
Step 3: Slowly pour the dry ingredients into the gelatine water.
Step 4: Turn the hob down to a medium heat and simmer for around 6 minutes. Constantly stirring the pan. A dough should form.
Step 5: Turn off the hob, remove the dough from the pan and allow to cool.
Step 6: Place the dough in a bag and store in the fridge. It will last between 1 and 3 weeks.
Step 7: When you're ready to fish, form balls into any size you wish and pack.
---
Method 2:

Basic Carp Boilie Recipe



Now we discuss a really basic carp boilie recipe.
Although there is not too much flavour here, this makes for a great base mix that allows you to use your own imagination when thinking about boosting these boilies.
Ingredients
Step One: Mix the cornmeal and brown sugar together in a bowl
Step Two: Crack the eggs into the dry mix and add 50ml of cooking oil. You're trying to form a rigid paste here so experiment with the cornmeal and oil content.
Step Three: Add 3 or 4 drops of food colouring to the paste.
Step Four: Rub some cooking oil into your hands which will stop the dough from sticking when your forming the boilie balls.
Step Five: Roll the boilies. You're looking to form around a 1inch diameter.
Step Six: Boil some water, the drop the boilies into the pan. Leave for around 5 to 6 minutes. They should start to expand during this process.
Step Seven: Using a slotted spoon, scoop each boilie out and place onto a towel or kitchen roll to dry out. Let them all cool off.
Step Eight. If you can, place on a rack (we used an old grill bar) to thoroughly dry out. This should take around 5 hours or so.
Step Nine: Finally, place the boilies into freezer bags for freezing. Thaw before fishing if you can.
Again, this is a very simple boilie recipe and we highly recommend adding a tablespoon of salt and sugar to the dry part of the mix to give added attraction.
Try experimenting with flavourings to really add some attraction to your boilies such as:
cherry oil
vanilla extracts
Instant coffee powder
Caramel cake flavourings
sweet milk
syrups such as
anise extract
cornflakes
bird seed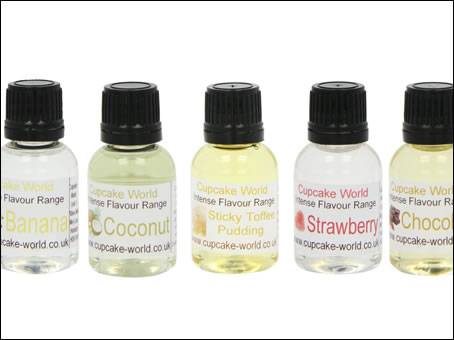 …and the list goes on. You can also purchase special flavoured dough ball mixes. Other interesting ingredients include peanut butter, oatmeal, sardines and even chicken livers.
---
Method 3:
Making Bulk Boilies
Now we'll move on to a more delicate boilie mix, courtesy of CCMoore, that demonstrates how to make boilies in bulk.
This recipe is easy and use just eggs, a base mix and a liquid attractant!
Tools Required

A Large Mixing Bowl
Sausage Gun (A very useful tool in boilie making)
Boilie Rolling Table (16mm)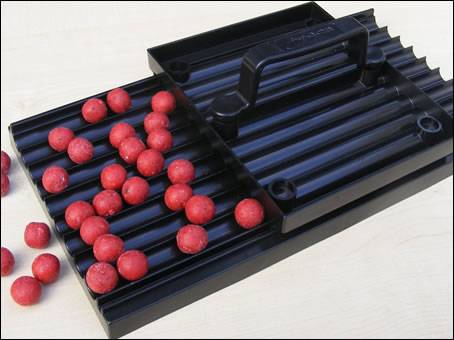 Measures for the Liquids (syringe or spoons)
Pan (for boiling the water on your hob)
Timer (or use your mobile)
Good Quality Freezer bags
Ingredients (for approx. 1/2 kg of base mix)
So, there is the tools you need, and the 3 simple ingredients required.
Here is the full video which is around 17 minutes on the process of making these boilies at home.

---
Method 4:
Basic Spod Mix
Spodding is proving to be a very popular bait delivery tactic, especially during the peak summer months.
Knowing what exactly what to put in a spod mix can be overwhelming considering the amount of bait on the market there is these days.
This spod mix recipe is very basic, and contains just 3 ingredients – hemp, pellet and corn.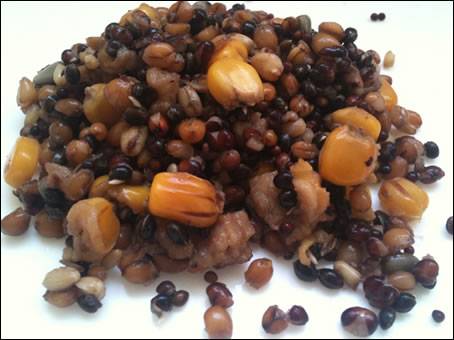 Of course, you can add other ingredients such as ground bait or maggots for a more visual look, but if you're new to spodding – this base mix will help you get to grips about whats required for spodding.
The quality of each ingredient is vital (this goes for any carp bait really) so always buy the best you can afford.
Look for hemp that has been boiled in the bag itself as this means all the oils will have been retained which when added to water, will give off signals for wary carp to hone in on.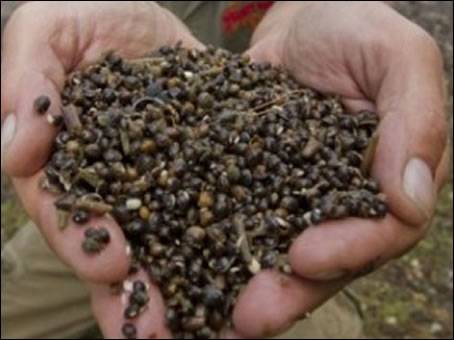 So, you'll need a large bucket for mixing everything together – and you can either do this at home or on the bank itself to keep it fresh.
A 5 litre bucket is sufficient.
Add your hemp seed, pellets (try to buy a mixed sized pellet mix which gives the carp varying choices) and sweetcorn.
Mix thoroughly, and we suggest adding a liquid attractant which will help bind everything together and reduce your spod mix from falling out during the cast.
Talking of casting, if you can plug the end of your spod rocket or spomb with a handful of pellet, this can also prevent your mix from falling out.
We'll finish with a video, courtesy of Trakker, to give you some great spodding tips and shows another spod mix you can add to your carp fishing.
So, there you have it – some really simple carp bait recipes that anyone can produce at home.
Not only is this cost effective, but there is nothing more satisfying than catching carp on bait you've made yourself!
---
More Carpy Articles!!

We've pieced together a mammoth list of carp bait suppliers just for you!
Read More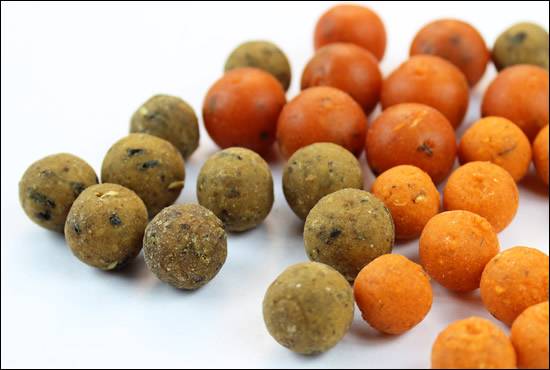 Save
Save