We have put together this article that covers everything you have been searching for on the internet about Jamie Hughes the fisherman and world-class match angler.
Jamie runs Winning Ways YouTube channel along with his fishing friend Andy May and the cameraman (also a great fisherman) called Richard Chapman. They all met while working at MAP together.
He is arguably one of the most successful match anglers of all time.
How old Is Jamie Hughes fishing?
Jamie Hughes is 39 years old. That's at the time of writing this article in March 2022.
When Did Jamie Hughes Join Matrix?
Jamie Joined Matrix in November 2018. Before that, he was at MAP for 4 years.
On joining Matrix, he said, "After visiting Matrix and being shown their current range of products plus their plans for the next few years, I immediately knew that this was something that I wanted to be involved in".
What Are Jamie Hughes' Coaching Prices?
Jamie's website is currently down and has been down for some time.
However, last time we spoke to him his price was £250 a day. We recommend reaching out to the Winning Ways YouTube channel or messaging him on Facebook here.
When did Jamie Hughes Win Fish O' Mania?
Jamie is a 3 record-breaking 3 time Fish O'Mania champion. He won his first one in 2013 before winning it again in 2015 and then in 2017.
He has made it to the final a record-breaking 10 times as well. You can watch more about this in one of his YouTube videos.
What Other Competitions Has He Won?
It was quite hard to find a detailed list, so please forgive me if some of this isn't 100% accurate, but here's what I found:
Fish O Mania 2013 champion
Fish O Mania 2015 champion
Fish O Mania 2017 champion
Daiwa Pole Fishing Masters 2019 champion
Maver Match This 2019 champion
Golden Reel 2019 champion
What Pole Does Jamie Hughes Use?
As he is sponsored by Matrix he uses their top-of-the-range MTX4 which is the flagship pole made by Matrix.
What Floats does Jamie Hughes use?
In this video, on shallow fishing, Jamie Hughes talks about using RW floats. These are handmade by Richie Wilson. You can find a link to their website here.
What pellets does Jamie Hughes use?
Jamie is a guy who loves pellet fishing. As soon as it gets to the springtime he stops using maggots and goes back to castors. His bait sponsor is Sonubaits so we have to imagine he uses their brand of pellets.
Where Is Jamie Hughes from?
He is from the Wirral which is in the county of Merseyside.
What Venues Does He Like To Fish At?
If you watch any of his winning ways videos then you will see that some of his favourite venues are Tunnel Barn, Weston Pools, Partridge Lakes, Birchhouse Lakes, and Monkhall Fisheries
Does he have a bait sponsor?
Yes, Jamie is now sponsored by Sonubaits. Before that, he was sponsored by Spotted Fin.
If you notice something that is not accurate on this page or something that is missing, please get in touch and we can amend it.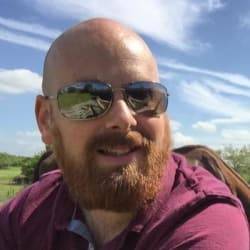 Mike has over 30 years of fishing experience in carp fishing and general coarse fishing. He is always looking for the latest fishing kit to try out and talk about and needs a bigger shed due to all the fishing tackle he owns. You can read more about him here.