Hooklength boxes are more useful than they may first appear on first sight. They aren't just a storage solution, they are a tool, and an aid to consistency. Having to tackle up every time you lose a hook length can be frustrating and time-consuming. If you have got your rig 'dialled in' and can't remember the exact setup then you might be back to square one, and back to trying to find the fish.
To find the right hooklength box takes a bit of thought. You want to make sure that you can store a decent number of hooklengths. Regardless of how full the box is, you should be able to remove your chosen hooklength easily, without tangles. The key to successful fishing is organisation. If you can quickly and easily identify which hooklength you need, then you'll be good to go and out fishing that much sooner.
We are going to look at the various features of various hooklength boxes, review what is best for each budget and style, and give some tips and suggestions as to why those features are useful. Here is our guide so you don't get tied up in knots:
Best Hooklength Boxes
Best for beginners
Multiple sizes available
Holds up to 10 different configurations
Easy organisation
Preston makes quality products in conjunction with well-known match anglers. This box isn't laden with technology, but that's OK, it still does the job well enough. It is well constructed and durable, made from tough reinforced plastic, it has stainless steel hinges and a magnetic locking system, so your rigs stay in the hooklength box and not in a pile at the bottom of your tackle box. It comes with waterproof plastic labels to keep you organised and can accommodate hooks all the way down to size 24. This box should be an ideal choice for someone who has a few rigs but wants to keep it simple.
Best for intermediate anglers
Waterproof, no rusty hooks!
Interchangeable magnetic rig sticks
Easy rig identification
This box features all of the quality features of the basic Preston hooklength box and then adds some more. This box has removable rig sticks. When they are not in use a strong magnet keeps them in position, but they are easy to remove when you need them. They can be rearranged in whatever order you choose. As an added bonus you can add smaller sticks if you are dealing with shorter hooklengths. Dual identification slots mean that regardless of which way you open the box, you know what you are looking at. If being on point with your organisation is your thing, or you want to be able to rearrange on the go, this box could be ideal.
Best all rounder
Clever sliding pin system.
Universal rig storage
Surprising capacity
You can store up to 90 hooklengths at once in the box and this box oozes good ideas. From the transparent lid that allows you to see what's inside to the unique sliding pin system, which allows you to store and organise many different sizes of hooklengths this box has it all. It even features a magnetic storage system to hold all of those metal bits and pieces securely. If you are uncertain as to what you might need on the day, take it all in this box, which is best suited to those with lots of rigs and ideas.
Best for feeder fishing
Unbelievable capacity
Double sided
Customisable storage
If you thought 90 hooklengths was a lot, get this… This box can hold up to 1200! If you can make it, this can hold it, from a 2" hooklength all the way up to 3 feet, this box has you covered. It has a unique sliding measuring system to make sure your hooklengths stay consistent. And you can write on the central divider to keep track of which rig lives where. It lacks the magnetic tech of its smaller brother, but with sturdy slotted foam, stowing and removing the hooklengths is just as easy. Due to the storage capability we would recommend this as a good purchase for those who like to tie feeder rigs with a longer hooklength.
Best budget option
Easy to use
Customisable
Low price point
Simple might suit you best. The bottom of this box is lined with foam. To stow your hooklengths you take a couple of pins out of the handy draw, stick them in the foam and wrap your hooklengths around it. OK it's not going to win the award for innovation, but it works. At the end of the day if you can keep your hooklengths organised and it works for you then why add more complexity? This would be the ideal choice for those who don't want to break the bank on a box (or too many rigs).
Best premium choice
Unbreakable construction
Space optimisation
All in one, super versatile
If Ferrari made hooklength boxes, this would be it. This little box has nearly all of the features of our other boxes combined. It has a measuring tool, movable pin tracks to house many different sizes of hooklengths and has a heavy duty case. Did we mention the capacity is huge? You'll easily be able to fit 1000 hooklengths of all sizes in here. The price tag is at the upper end of the scale, but you needn't worry, even if it falls in the drink, it is designed to float! We don't always advocate going all in. But if you were to purchase the box, its doubtful you'll ever need another.
Best for stalking
Compartments for 'extras'
Anti-tangle technology
Compact design
Of course, you don't always need a rig box full of thousands of hooklengths. If you have a dynamic style where you are happy to make changes as and when you need them, then just a few hooklengths will do. If being mobile and setting up dependant on the conditions works for you, then this box will too! The capacity isn't huge, fitting around 20 rigs, but it has smart little compartments to hold hooks, swivels, stops and any other rig making paraphernalia. For those who want something small and simple this box is a wise investment.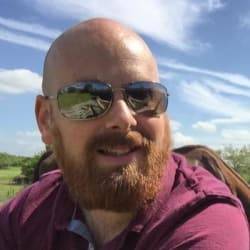 Mike has over 30 years of fishing experience in carp fishing and general coarse fishing. He is always looking for the latest fishing kit to try out and talk about and needs a bigger shed due to all the fishing tackle he owns. You can read more about him here.