Carp Fishing DVD's: Carpy Tales & Modern Angling Tactics
Hello, and welcome to our Carp Fishing DVD round-up post.
We know there's YouTube and other video websites where, after a click or two, you can watch thousand upon thousands of carp fishing tips and tricks.
But sometimes, its actually nice to own a few Carp DVD's!
They can be packed with features, and quite often there will be exclusive content that you won't find anywhere online.
All the big manufactuer's and pro-angler's release the odd DVD – some of which are a great watch!
So put your feet up, grab a beer – and enjoy our Carp DVD round-up!
Go Carp Fishing With Julian Cundiff
Released: 2004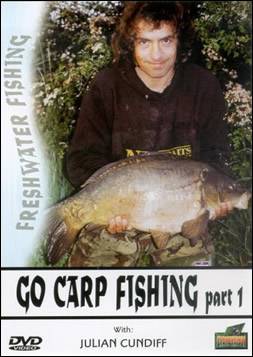 'Go Carp Fishing' offers expert hints and tips from veteran carp angler Julian Cundiff.
His down to earth, simplistic style is infectious and this 2-part DVD begins with swim selection.
It then moves on to Julian talking about preparation and what tackle he uses.
A perfect introduction to learn about carp fishing!
Part 2 goes a bit more in-depth to 24-hour angling sessions providing a good foundation to building on your carp knowledge.
A thouroughly enjoyabke DVD showing some really good methods to catching carp up and down British waterways.
Julian Cundiff – Choosing Your Swim
---
The Carp Crew Collection (Series 1 & 2)
Released: 2013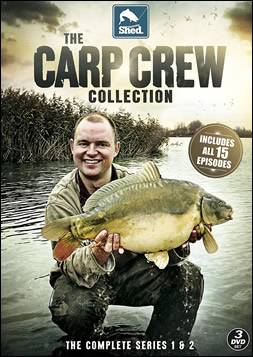 Jan Porter, like most carp fisherman, simply wants to improve his carp fishing skills in a variety of disciplines.
In Carp Crew, Jan achieves his goal by rubbing shoulders with a carp guru in each episode to learn from their expertise.
Along the way, some of the secrets and intricacies of this exacting pursuit are revealed, helping you become a better carper . Over the series, Jan builds up a complete guide on how to improve your carp fishing and is helped along by some of the greats in the field.
In Carp Crew Series 2, a true carp-fest is on offer as the biggest names in carping demonstrate the latest methods, show a huge selection of tackle and share secret baits, tips and technology news.
Along with specialist guest anglers and recognised experts, one of the UK s leading names in carp angling, presenter Kev Green, will share his wealth of experience and offer insight into the UK s carp fishing fraternity.
A passionate fisherman, Kev aims to enlighten the average carper and demonstrate how anyone can catch exceptional carp, so long as they are prepared to try out new methods and new locations.
---
Korda Thinking Tackle
All 9 seasons!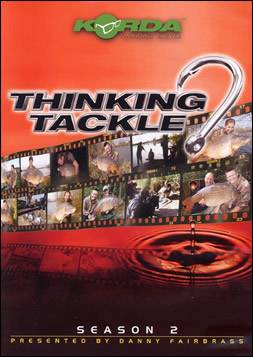 All 9 seasons of the popular TV show "Thinking Tackle" from Korda.
When it hit the screens just under a decade ago, it elevated the profile of carp fishing, and it's host, a certain Danny Fairbrass!
Since launch, some of the biggest names in carp angling have appeared on the show and we've been to most of the most popular and famous lakes in the UK.
Tactics have always been a huge part of the show and if the guys use it, then they show it so you can copy their secret edges. So, you get a privileged glimpse into the methods that our top carp anglers use in their own fishing through the detailed technical sections.
Across the nine double carp fishing DVD's, you can catch the likes of Darrell Peck, Simon Scott, Ali Hamidi, Tom Dove, James Turner, Scott Maslen, Gaz Farnham, Terry Hearn and a whole host more! If you can't learn from that lot, then there's no hope for you!
The whole back catalogue is available on DVD for your viewing pleasure!
Thinking Tackle Season 1 – Winter Carp Fishing
Here are just a few carp fishing DVD's for your viewing pleasure!
We'll be sure to add a few more to this list in the future.