Hello, and welcome to our Carp Fishing DVD round-up post.
We know there's YouTube and other video websites where, after a click or two, you can watch thousand upon thousands of carp fishing tips and tricks.
But sometimes, its actually nice to own a few Carp DVD's!
They can be packed with features, and quite often there will be exclusive content that you won't find anywhere online.
All the big manufactuer's and pro-angler's release the odd DVD – some of which are a great watch!
So put your feet up, grab a beer – and enjoy our Carp DVD round-up!
Best Carp Fishing DVDs
1. Fishing With the Experts for the Secret Carp with Chris Yates (2010)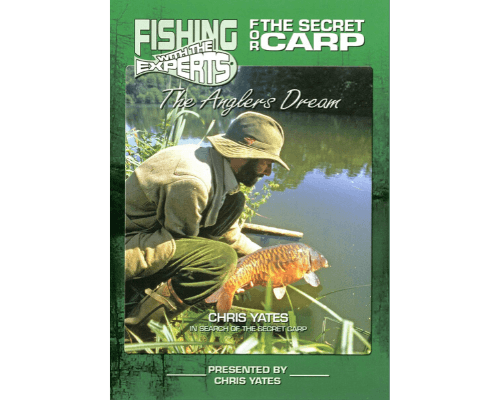 First in our guide to the best carp fishing DVDs is this release from the long-running series of Fishing With the Experts. This release is For the Secret Carp: the Angler's Dream featuring Chris Yates. Chris, as many of you probably know, was a holder of the British Carp Record landing a fish weighing more than 51lbs. He is one of the most prolific and admired writers and experts on the art form that is fishing.
His very down-to-earth and laidback style makes this DVD very easy watching. You are not bombarded with lots of information about rigs and bait, but instead, Yates gets over the fact that its more to do with your approach to fishing for carp that equals success more than anything else. Chris, after all, is one of those old school anglers who still uses original reels and cane rods. From a lake in Hampshire you follow his gentle adventure as he fishes for carp, successfully, using several different surface baits and even curry-flavoured maggots.
As he is a true nature lover, he also gives comments on the surrounding wildlife and there is, rather hilariously, a moment where he suggests the fish aren't feeding so takes a nap under a nearby tree.
2. Fishing With the Experts for Carp with Des Taylor (2012)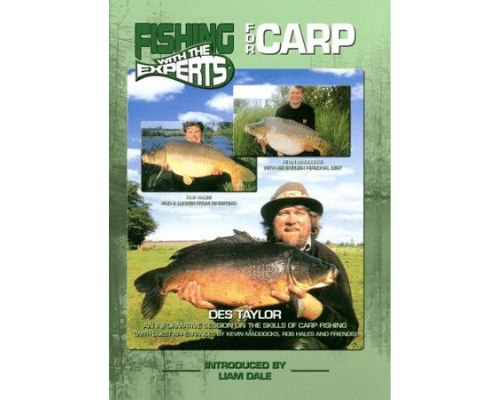 The next in our look at the best fishing DVD offerings available is another release from the Fishing with the Experts for Carp series, this time featuring an unbelievably informative and fascinating session with Des Taylor. Like Christ Yates, Des Taylor has a reputation for taking things back to the bare basics and only using the simplest setups.
The information he gives, if you are on the right fishery, could prove invaluable to better your own fishing achievements. It doesn't matter if you are a beginner or have been angling for years, there is always something you can learn from a respected expert and journalist like Taylor. Watch as he makes it look incredibly easy to land the much-sought-after catch by most British anglers of the 30-pound carp, not just once but twice!
As well as Taylor, there is also some modern carping with Kevin Maddocks and Rob Hales, taking on and winning a 46-pounder and a 30-pounder respectively. Eagle-eyed viewers may be able to spot some stunning catfish also caught during Maddock's and Hales' session by other anglers at Ringstead Fisheries.
This is the perfect preparation for that fishing trip you have planned over the next few months or in the coming year.
3. State of the Art Underwater Carp Fishing Part 6 – Korda Thinking Tackle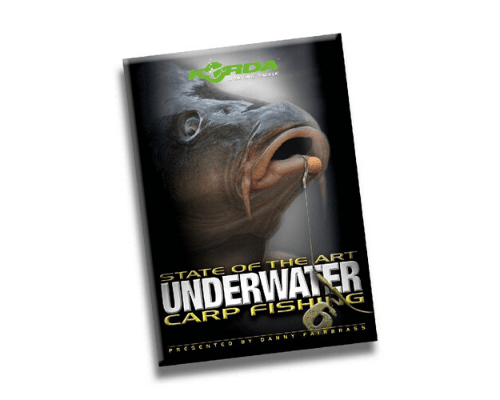 Perhaps you are looking for a change of pace and are looking for a great underwater carp fishing DVD. Look no further than Part 6 of the long-running and hugely popular State of the Art Underwater Carp Fishing series. Danny Fairbrass and his team at Korda filmed this part along with Part 5 from the so-called clear patch in Wellington Country Park. There is a lot of action from the beginning as the carp have been fed from that same spot for at least a week.
There are the usual highs and lows that you come to expect from carp fishing. This film focuses almost completely on Boilie Fishing, in response to many fans of the series asking for that to be tackled by the team. There is some stunning underwater footage and Danny gets help from Yateley Angling star performers Steve Fantuzzi and Nik Helleur to design a suitable rig.
As they have by this time did 5 of these previous to this one, Part 6 definitely has a smoother flow with lots of information and action, as well as special guests and quality sound bites. A must if you are looking to add new dimensions your approach to angling.
4. The Fox Guide to Carp Fishing – DVD Two – Being Prepared Presented by Matt Hayes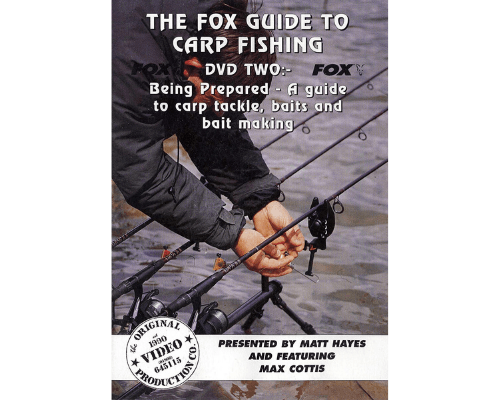 A great option for those looking for DVDs covering the basics of carp fishing for beginners is The Fox Guide to Carp Fishing – DVD Two. It is hosted by the renowned and respected Matt Hayes, who you will probably know from his many successful angling tv shows on Discovery Real Time. In the past, he wrote a column every week for Angling Times and currently serves as The Carp Society's President.
To say Matt Hayes knows a thing or two about carp fishing is putting it lightly. Therefore, even if you have never heard of him but want to learn more about being prepared for carp fishing, this is a great option. It includes an introduction to preparing baits and tackle for carp and also looks into making baits too. Max Cottis, another expert angler with a list of credentials to back up the information he gives, also joins in with this hugely entertaining and satisfyingly informative DVD.
5. Four Seasons of Carp Fishing (2 DVD Collection)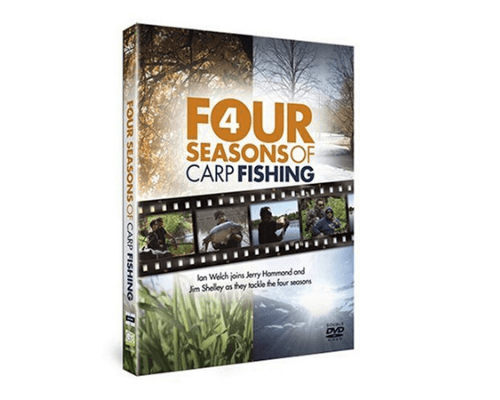 Next in our guide to the best carp fishing DVD collections is this 2-disc offering entitled Four Seasons of Carp Fishing. This takes an in-depth look at, you've guessed it, fishing for the ever-popular and tricky customer that is carp in spring, summer, autumn and winter. The DVD set features two of the country's best-loved carp angling experts, Jerry Hammond and Jim Shelley and follows their varying approaches at different venues to catching carp throughout the year.
From Ringland in the wintertime to Waveney and Yateley during spring to summer through to autumn at Cartagena. The beautifully filmed footage shows the country at its best with their insight into their own approach and the chance to see the experts in action as they put their mouths and money where their fish and baits are. A must for all novices, the video is so inspiring that even if you are not a keen angler as yet, by the time you've finished watching it, you will want to be, that's for sure.
6. State of the Art Underwater Carp Fishing Part 4 – Korda Thinking Tackle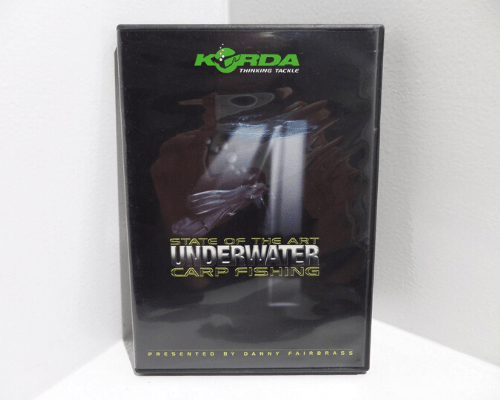 For the last option in our list, we have another great underwater carp fishing DVD in the form of Part 4 of the State of the Art Underwater Carp Fishing series from Korda Thinking Tackle. This takes up where Part 3 left off and follows Danny Fairbrass and his team as they analyse the reaction of carp to particle baits. You can see very clearly how different they react to feeding on maggots compared to boilies and the video features more interesting and innovative ways to trick the smart and elusive carp in the RMC Blue Pool.
There are at least 9 different carp caught and this is an action-packed watch from start to finish. You will also find the in-depth look at how Danny puts particle and maggot rigs together and great ideas for camouflaging your hooks. As Korda have really taken a professional approach to the film, you can watch in one sitting or by taking in different chapters. As is the case with the later part we already highlighted in our guide, Part 6, it is a fully immersive experience that will have you full of ideas for how to get more fish on the bank next time you head to the water.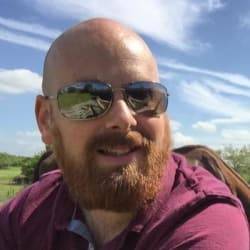 Mike has over 30 years of fishing experience in carp fishing and general coarse fishing. He is always looking for the latest fishing kit to try out and talk about and needs a bigger shed due to all the fishing tackle he owns. You can read more about him here.