Fox Warrior S Review
We're excited to present our Fox Warrior S review – a beast of a carp rod boasting power with pleasure.

Marketed as another 'entry level' carp rod, Fox are known to produce carp rods that are built to last any angling situation.
It looks, and feels, way more expensive than the price suggests (around £50) and we first noticed just how soft and subtle it handles.
The Warrior S benefits from low resin carbon blanks resulting in an ultra light and very slim blank which would explain the delicacy.
Fox state this is the lightest and slimmest yet in the warrior range.
Rod Information
| | |
| --- | --- |
| Length: | 12ft & 13ft |
| Test Curve: | 2.75lb & 3lb options |
| Sections: | 3 |
| Construction: | Low Resin Slim Carbon Blanks |
| Guides: | 5 (40mm Butt Ring) |
| Colour: | Black |




Beyond the glossy black matte finish, the Warrior has a progressive through action with discreet graphics throughout.
The gun smoke butt cap is laser-etched to add a nice touch of quality.
The mid section features the legendary Fox SLIK guides from a 40mm butt ring up to a 14mm tip.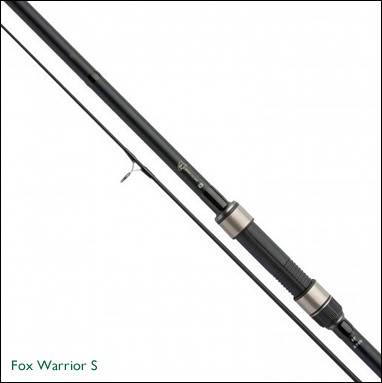 The blank used is a slim, low resin mould finished in matt black.
The reinforced 18mm DPS reel seat will house most reels securely providing a really nice fit.
This rod is truly a joy to use, whether you opt for the full cork handle or not.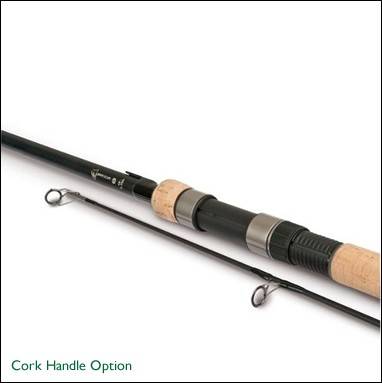 Very capable of punching heavy end tackle such as PVA bags or heavy lead setups at range – this bad boy is powerful and it really does deliver on the bank.
Overall, a well balanced, well oiled carp rod perfect for those who want to ditch there starter rods for something more classy and powerful.
---
Features
Fox Slik guides (40mm butt to 14mm tip)

DPS-style 18mm reel seat with reinforced steel collar

Matt black, understated finish

Line-friendly CAD-engineered line clip

Laser engraved gun smoke butt cap
---
Fox Warrior S Video Review
---
Summary
Outstanding carp rod – really good value for money here.
The playing action is very smooth, the rod feels well balanced and even popping out method feeders at distance is no problem for the Warrior S.
Thumbs up!
---
Amazon Reviews
Average Customer Review: 5 out of 5 stars (3 customer reviews)
No. of 5 Star Ratings: 3
---
More Carp Rod Reviews
Sonik SKS
Nash Scope
Shimano Catana CX
Save