Innovative Carp Tackle: Avid Carp

In our brand new 'Focus' section, we talk about Avid Carp, one of the leading carp tackle specialists around.
Armed with a team of carp consultants covering the United Kingdom, Germany, Belgium and Holland, it's no wonder Avid Carp constantly raise the bar with their innovative carp tackle.
Owned by worldwide fishing giants Zebco (through Preston Innovations), anglers such as Ian Russell (British Carp Angling Championships finalist, Ryan Need (UK Carp Cup winner) and others have taken the UK and European tackle markets by storm.
They design tackle that includes rods, reels, luggage, PVA options, end tackle and carp care.  Each product is carefully researched, tested and design is solely based with the angler in mind.
So, let's pick out some of Avid's range of carp tackle and put to the test.
Benchmark X Bed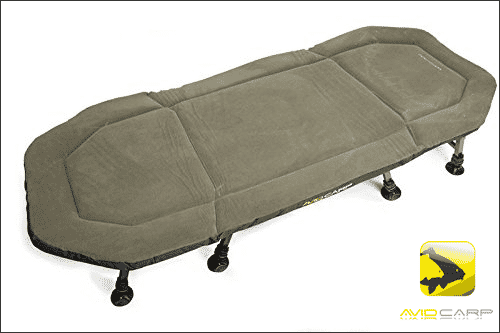 When opening, which was easy due to the rapid folding mechanism, you'll notice a 2 inch memory foam laced mattress.
Memory foam shapes around our body giving you a good night's sleep – which makes the difference over long sessions. The mattress is removable and rather than the usual elastic wrap around that you find on other beds the Benchmark moulds around the frame edges for support and to prevent sagging.
This bed absolutely oozes quality throughout which you can see from the reinforced throw hinges (rather than wheels) which allow you to pack your bedding away inside when finished. This gives you a totally flat surface to offer you maximum comfort. A strong security strap secures your bed in transit.
The four legs can be adjusted and locked  into 8 'support' positions to giving you a nice even weight distribution. The frame is strong and perfectly symmetrical.
Weight: 12kg
Width: 71cm
Length: 193cm
Benchmark Video
Key Features:
Lumbar Region Support System
Removable 2″ Memory Foam Mattress
Symmetrical Frame
Lockable Adjustable Legs
Completely Flat
Rapid Folding Mechanism
Easy Open Security Clip and Strap
4 Legs for Even Weight Distribution
8 support positions
---
Zig Storage Box
Zigs are on the rise and Avid have provided us with a fantastic storage solution for all your zigs, it also contains 8 'zig spools' that hold 2 made up rigs giving you a 16 zig rig capacity.
Also, each spool features a slider that enables you to store zigs of varying length.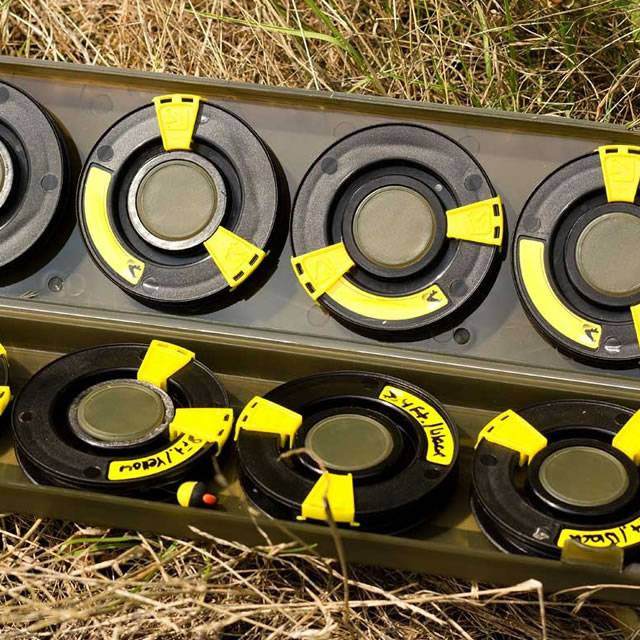 Thats not all!
It also comes with 32 extra spools so you can swap and change as you need. You'll also find a handy ruler guide for measuring lengths of line.
If your an organised angler, you can tie your rigs at home, the just wrap them around a spool safe in the knowledge they are good to go – no more tieing zigs on the bank!
Finally, a set of labels are included so you can easily mark your spools
Boasts eight specifically designed Zig spools
Supplied with 32 spare spools
Spools supplied in compact i-design UK Box
Box features a 12in rule for measuring Zigs
Holds 16 Zigs in total
Zig Storage Video Demo

---
Carp Cradle
Quality shines through with this awesome Avid carp cradle.
Available in 2 sizes, they fold down very easily and arrive a compact carry bag for easy transportation.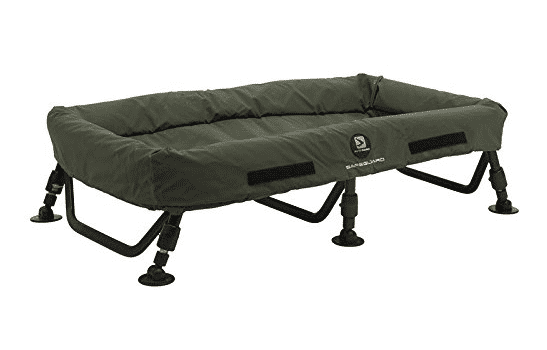 Featuring high side walls, extra padding internally and externally with a rubberised internal finish. There is a cover flap to secure carp, together with a roll out matt and heavy duty handles.
The legs are adjustable to give you a flat base on uneven ground. The centre is made from mesh which means you can easily drain water when finished caring for your catch.
High-sided walls
Roll out kneel mat
Cover flat to temporarily secure fish
Fully padded interior for increased fish protection
Carp Cradle Video
Visit Avid Carp for more innovative carp tackle.
Save